Apple Maps on iPhone, iPad works fine and with iOS 11 getting released to the public this fall along with the new iPhones it would be just awesome.Maps in iOS 11 comes with new features which include lane guidance so that you don't miss the exits while traveling, speed limit indicator, one-handed zoom so that you can zoom in and out with one hand while driving, "Do Not Disturb While driving", virtual reality and more.
However, if you want more from your Apple Maps and don't want to wait for the release of iOS 11, try these best Apple Maps alternatives.
Not Satisfied With Apple Maps On iOS, Try These Best Alternatives
1. Google Maps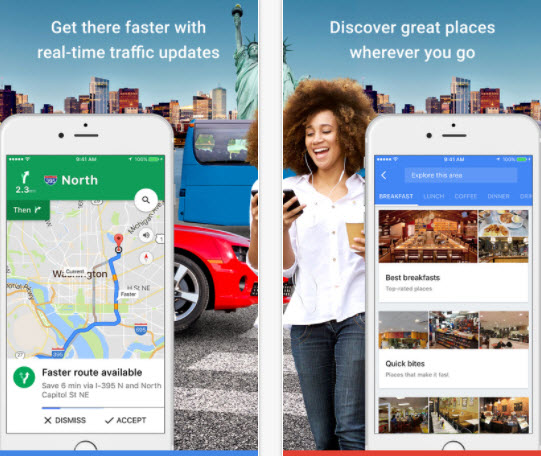 Google Maps for iPhone, iPad provides users real-time traffic updates so that you are able to reach your destination faster and easier. If you are stuck, no worries automatic re-routing feature guides to reach your destination, and the lane guidance makes sure that you don't miss a turn or an exit while driving.
The app also lets you find places to eat and shop, share reviews and photos of the places you visit.
Don't have an Internet connection? Download Maps offline to search and navigate.
Google Apps is available for a free download from the App Store.
Download Google Maps.
2. Waze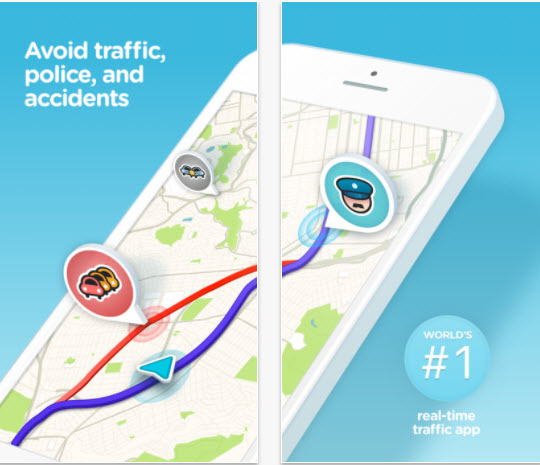 Waze is community driven having 85 million drivers providing you traffic updates to avoid traffic jams, police traps, and accidents. Get traffic updates and find how much time it will take for you to reach your destination before you start to drive. Waze re-routes you automatically as per the traffic conditions on the road so that you are able to reach your destination fast.
The app lets you find cheapest gas stations on your route and provides you audio directions in celebrity voices. Share your drive with your friends and family so that they know where you are heading and coordinate arrival time of everyone.
Waze does not eat your iPhone battery life, it automatically shuts off if you are not using it while driving.
Get a notification when you start speeding.
No need to worry about parking, Waze provides parking suggestions.
Waze app does not cost you even a penny.
Download Waze.
3. MapQuest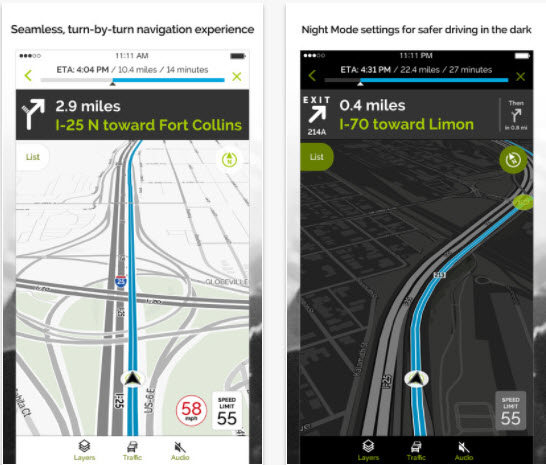 MapQuest by AOL Inc is the oldest and another best alternative for Apple Maps on your iPhone, iPad. The app provides satellite imagery and live vector maps along with voice guided turn-by-turn navigation.
The app provides automatic re-routing of traffic, sharing ETA and location with friends and family and saving favorite locations to get directions.
You can check out near by restaurants, book hotels and browse menus of the local restaurant right from the app itself.
Get the roadside assistance of your broken car, spot your parked car, compare gas prices on your route and find the weather details of the place you are heading in advance.
Download MapQuest for free from the App Store.
Download MapQuest.
4. Karta GPS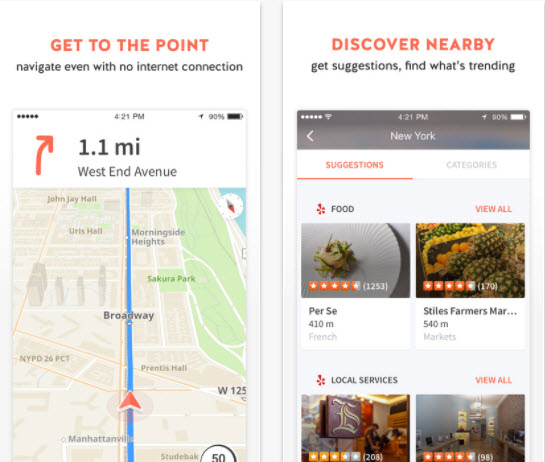 Karta GPS focuses on offline navigation. The app gets updated frequently with new features and customization options for iPhone, iPad users. The app provides live traffic updates, automatic re-routing and finds nearby restaurants and venues, share with friends and family.
Get speeding alerts like Waze.
The offline maps are provided by OpenStreetMap which comes with latest data and updates. The offline downloaded maps may take a lot of your iPhone storage.
Karta GPS is free with in -app purchases.
Download Karta GPS.
Do you use Apple Maps on your iPhone, iPad? Have you tried using alternatives to the Apple Maps, if so, which one do you use?