It's December, which means holiday seasons is around the corner. Christmas is the time for shopping, buying gifts, parties and more. The Apple App Store is filled with Christmas-themed apps for adults as well as young ones. Christmas shopping can be tiresome, relax at home with your family with these cool Christmas games for iPhone, iPad. Most of these Christmas games for iPhone, iPad for free while others may be paid. Have you checked best coupon sites and Holiday Shopping Apps to save money?
Check out the list of Christmas-themed iPhone, iPad apps and games to get you into a festive mood.
Best Christmas-Themed Games For iPhone and iPad
You need to help Santa to build a new village, make homes for Santa's elves by choosing from various decorations, teach reindeer to fly, and meet magical neighbors like Yobo the Yeti and more. The aim of the game is to save Christmas from Grumpkins by fighting with snowballs.
Wanted to fly with Santa through the rooftop of houses in the city to collect letters from kids? Be a Santa and  fly the sleigh in three different modes in real-time 3D graphics. The game has various customization options to choose from.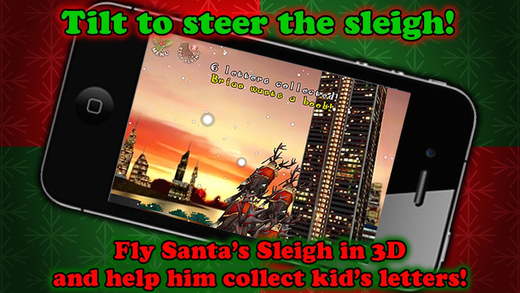 Christmas Quest is one of the best Christmas-themed game which kids would love to play. The game is simple to play, you will have to help Santa to deliver presents all around. It has 12 levels, use a joystick to play and collect points while you play. Christmas Quest has superb graphics and sound effects.
Santa Fun Games is one of the most popular Christmas game which you can play on your iPhone, iPad. The game has 9 mini games including throwing snowballs, catching Santa and saving Santa from falling, dropping gifts with Santa and much more. The game also has social sharing options and will keep you busy for long hours for sure.
Elf on the Shelf is a Christmas tradition and Find the Scout Elves is one of the best Christmas games for kids where kids will have to tap the elves before they hide, or time runs out. You can adjust the difficulty level to make kids play this for a longer time.
Elfxpedition is an interesting augmented reality Christmas game for kids. Catch elves in virtual reality  your iPhone, iPad. Use camera of your iPhone to catch elves on iPhone screen using Elf Detector. If your kids have got tired of playing Pokemon Go they are going to appreciate Elfxpedition.
Elfxpedition is priced at $2.99.
More On Christmas-
20 Awesome HD Christmas Wallpapers 
Online Christmas Games For Kids
Get your kids and family into Christmas mood by downloading this free game on your iPhone, iPad. The game has 36 predefined mazes and all the mazes are unique. Amazing Santa has superb HD graphics and you can create your own maze to play. The game becomes difficult as it progresses, will keep your kids hooked on the game for a long time.
Which according to you is the best Christmas game for iPhone, iPad?