The popularity of Android has increased at a rapid speed, so has the number of apps and free games. Here is the list of best free Android games 2014! You can also go through the list of 10 Most Anticipated Games of 2014.
Have You Installed These Best Free Games On Android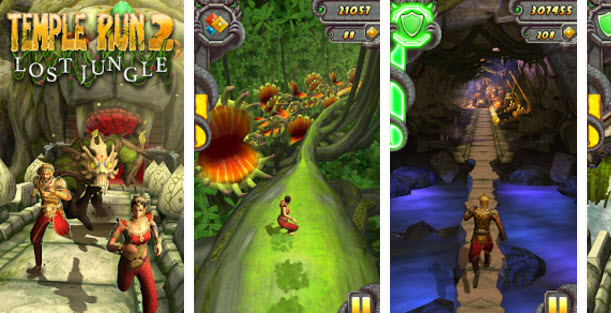 1. Angry Birds Go!: The craze of Angry Birds by Rovio cannot get bigger than this. You can see birds and pigs in action in the colorful 3D world with plenty of twist and turns. One of the best free games 2014 to download.
2. Asphalt 8: Airborne: Asphalt 8: Airborne by Gameloft is an amazing free racing game for your Android. The game has incredible graphics and soundtrack which will make you play the game again and again. Players can play the game with other live opponents with your dream car in exotic locales.
3. Cut the Rope: Holiday Gift: Cut the Rope by ZeptoLab comes with a Holiday gift with tricky levels and colorful visuals. Feed Om Nom candy by swiping your finger and cutting ropes.
4. Temple Run 2: Temple Run 2 by Imagi Studios is one of my favorite free game to play in 2014. Swipe to jump, slide and turn your way and escape from the giant monkey. The game has beautiful graphics, obstacles, nd power. Run and save yourself.
5. DEAD TRIGGER 2: Dead Trigger 2 is one of the best Zombie shooter game which is a sequel of Dead Trigger by MadFinger Games. Enjoy playing games with more Zombies, more weapons, and better graphics. It is one of the best free Android games 2014.
6. Battle Dragons:Strategy Game: This is an additive game by developer Spacetime Games. Command and build your own Dragon army and battle with thousands of other rival Dragons by making strategies.
7. FIFA 14: FIFA 14 by EA Swiss Sarl has arrived for free for Android and iOS. The game features good graphics, real-world clubs, tournaments, and players. You can listen to the commentary in English, French, German, Italian and Spanish. FIFA 14 is a 1.35GB download, so check internal storage of your device before downloading. You will be required to make in-app purchases to upgrade your game.
8. Golf Championship: Play Golf for free on your Android with amazing
touch control, 3D graphics, varying wind, and better graphics. Create your own avatar, custom dress and play in three different modes.
9. Trial Xtreme 3: This is an excellent game with stunning graphics, the sound where you customize your rider and bike as your wish. Play alone or along with your friends by using 112 original courses to win.
10. Dots: Dots is a simple fun and an addictive puzzle game where you are required to connect same colored dots fast. It is again one of the best free Android games 2014.
Which is your best free Android games 2014? Do share!