iPhone 5 is an awesome smartphone sporting 4-inch Retina display. If you have recently bought iPhone 5, here is the list of best iPhone 5 games for game lovers.
1. FINAL FANTASY III: FINAL FANTASY III by Square Enix is compatible with Retina Display and has been the best seller. The game involves around four youths that are chosen by the crystals who have to save the world and their journey starts at night. The game comes with new and improved 3D visuals along with new visual for designs for the Job Mastery Cards. FINAL FANTASY V is expected to be released soon. The game is available for a download for $8.99 from iTunes Store.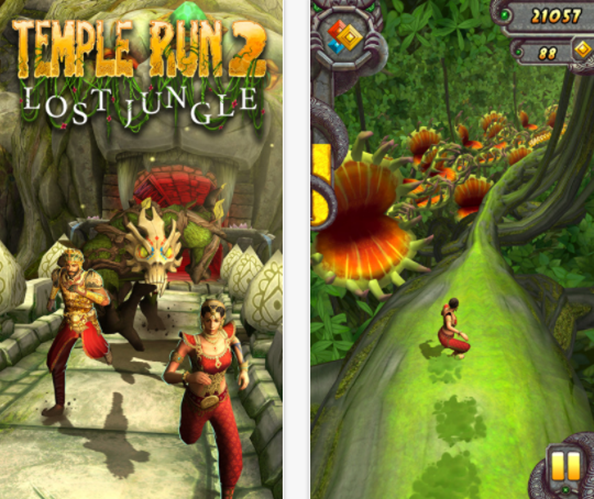 2. Temple Run 2: You will never get bored of playing Temple Run on iPhone 5 which is available for a free download. The game comes with new graphics, bigger monkey, special powers for each character, new obstacles, powerups and achievements. Escape from cursed idol by navigating through mines, cliffs, and forests.
Also Read: 8 Best Free iTunes Alternatives
3. Real Racing 3: Real Racing 3 is one of the best free game which you can play on your iPhone 5 involves real cars, tracks and people. The game comprises of licensed tracks, 22-car grid, 45 cars, more than 900 events. Game comprises of Time Shifted Multiplayer. You should have 1.9GB of free space on your device to play the game.
4. Grand Theft Auto 3: Grand Theft Auto 3 by Rockstar Games priced at $4.99 involves around dark and seedy underworld of Liberty City. The game comes with better graphics, character and vehicle models, you get world of crimes on your fingertips.
5. Asphalt 7: Heat: Asphalt 7: Heat is optimized for the screen of your iPhone 5 providing you with the best racing games. Play game with your friends on 15 tracks set in real cities by driving more than 60 different cars in 6 different game modes. Enjoy the game with better graphics with more than 50 millions player across the globe. Download the game from iTunes Store for just $0.99.
6. N.O.V.A. 3 – Near Orbit Vanguard Alliance: N.O.V.A. 3 – Near Orbit Vanguard Alliance by Gameloft is for those who opt for the best in gaming. The game involves around fighting for the survival of mankind. You will have to join 12-player battles in 7 multiplayer modes, use different weapons and tricks to defeat your enemies and voice-chat with your friends in real time. Try playing the game for just $0.99.
7. Infinity Blade II: Priced at $2.99 Infinity Blade II is an award winning game which will never bore you. Discover the secrets of Infinity Blade, play the game in 3D world with different style of combat and mystical weapons. Story line of the game is amazing allowing you to share our game progress with your Facebook friends.
8. Fieldrunners 2: Fieldrunners 2 is one of the top rated game in App store priced at $2.99. You will be required to defend the world by building winding paths out of imaginative, new weapons in 20 new levels. The game is integrated to iCloud.
9. Cut the Rope: Cut the Rope is another award winning game which you can enjoy playing on iPhone 5. The game has better graphics with character named as Om Nom, feed candies to Om Nom, discover hidden prizes and new levels. Download the game priced at $0.99.
10. Call of Duty: Black Ops Zombies: Call of Duty: Black Ops Zombies can be played in a team of 4 members in a 50 level game by Activision Publishing. The game features voice chat and is available for a download for $6.99.
11. Angry Birds Space: You can never get bored of playing Angry Birds Space by Rovio in your iPhone 5. Needless to say that it has been rated as one of the best mobile game. The game has 60 interstellar levels with new birds and superpowers. Download the game for just 99 cents, if haven't yet.
Have you tried playing Puzzle Games for iPhone to kill boredom ? Which is your favorite iPhone 5 game ?