The Internet has changed our lives and music is no exception. Today there are various music streaming apps for smartphones which let music lovers to stream music online without downloading or purchasing.
If you are a music freak and like to listen to free music in your leisure time or while working then listed below are some top music streaming apps for Android users.
Are You Looking For Music Streaming Apps For Android?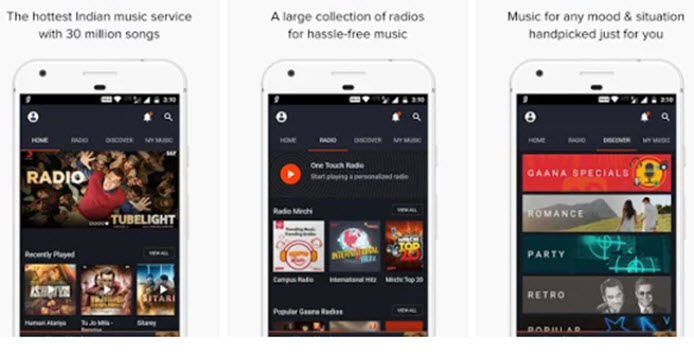 1. Gaana: Gaana is being touted as India's No.1 music streaming app. It has both free and paid online music streaming where you have the access to unlimited songs from Hindi, English, Tamil, Oriya, Telugu, Marathi, Kannada, Punjabi, Malayalam, English, Bhojpuri, Rajasthani, Bengali songs for free.
Save your favorite song in "My Zone", watch videos of songs along with the lyrics. You can upgrade to Gaana plus by paying $1.99 monthly to enjoy unlimited downloads and get high-quality audio.
2. SoundCloud: SoundCloud is for users who enjoy trending music which includes classical, hip-hop and rock. Users have the option to upload their own audio and make albums to share with others on various social networking sites.
With SoundCloud you can listen to the favorite tracks of various artists or musicians in trending audio feeds.
3. iHeartRadio: iHeartRadio by Clear Channel Inc. is easy and free to use top music streaming app for Android users. iHeart is quite similar to Pandora where you can choose an artist and make a radio. It has a huge database of 18 million songs and 400,000 artists along with the live custom Radio stations to choose from.
4. Google Play Music: Google Play Music is Google's own music app where you can listen to unlimited songs and listen to music without any limits. It gives you the option to add up to 20,000 of your own songs for free and integrate them with Google Play Music. Save your favorite music on your Android for offline playback.
It offers you sharable playlists which you can share with your friends for which you will have to pay $9.99 per month.
5. Songza: Songza is is being named an Editors' Choice app on Google Play.
Songza lets you to listen to unlimited music without any subscription. Stream thousands of songs by various artists, genre and save your favorite playlist or share them on social networks for free.
Also check: Sites To Download Music Free
6. Pandora: With Pandora, you can create radio stations based on various songs. Pandora will create for you a playlist just by entering the name of the song or band.
Pandora is free but ads supported. It is better to connect device to WiFi as Pandora consumes large amount of data.
Which Music Streaming Apps for Android you prefer?