With the advent of smartphones, taking Notes in a Note Pad has become an old concept. Taking down Notes is an essential part of our Office day to day activities, you can also try your hands on best Android office apps. We will be going through some best note-taking apps for Android now.
Try These Note Taking Apps On Android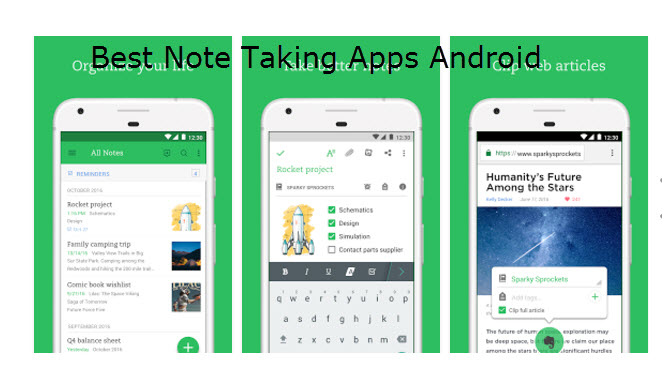 1. Evernote: Evernote is the best free note-taking app for Android having highest downloads. The app is simple and easy to use, lets you sync your notes on the desktop and on other devices. One of the interesting features of Evernote is that you can take photos and attach it to your notes, record voice reminders, share your notes with your friends on Facebook and Twitter, create to-do lists and so on. To access notes offline you will have to sign up for Evernote's premium service.
2. Catch Notes: Catch Notes is another popular Note-taking app which lets you capture ideas with voice, photo, and text notes. Set up reminders, back up your notes for free across various devices and protect your Notes by adding a 4-digit PIN. Catch Notes can also be accessed offline on your Android device.
3. GNotes: GNotes is a completely note-taking app for Android. The app lets you take notes, capture photos, create to-do lists, shopping lists, record voice memos and more. One of the best features of the app is that you can synchronize it with your Gmail Account. Gnotes has a cool interface where you can organize notes in folders and insert data in just one click. You can take a backup of your Notes on either SD-Card of your device or on your desktop. The notes can be protected for privacy by adding a 4-digit PIN.
4. ColorNote: ColorNote is a free app which can be placed as a Sticky widget on Home screen of your device. You can separate your Notes by color, the app lets you write notes, messages, shopping list and to do list and share them with your friends and family via Twitter, SMS or emails. Sync your Notes across other devices easily.
5. AK Notepad: AK Notepad is said to be one of the easiest Notes taking app having a friendly user interface. You can easily import or export your notes, set colors of your notes, pin notes to your home screen so that you don't forget, share notes with your family and friends and also organize notes with tags easily. The notes can be back up to Catch.com.
Have you tried any of the above-mentioned Notes taking apps for Android?