Selfie is defined as a self-portrait taken by your mobile camera or digital camera to share on social networking sites like Facebook or Twitter. "Selfie" was named Word of the Year for 2013 by the Oxford Dictionary. The huge popularity of Facebook and other social networking sites have to lead to the trend of sharing self-portrait. We will be going through some of the best apps selfie apps for Android.
Best Apps To Take Selfies On Android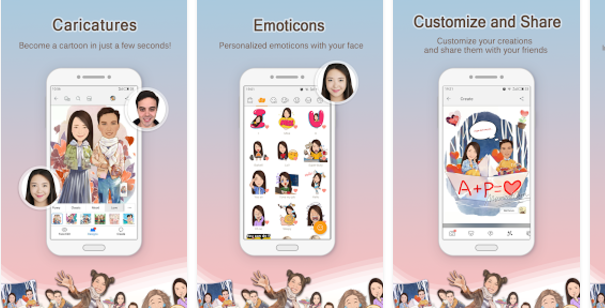 1. MomentCam: MomentCam app for Android is from China which has the capability of translating your images into a hilarious or a charming cartoon. The app is viral on Android as well as iOS. The best part is that you can go ahead and download the selfie app for free from Google Play.
2. Selfie Studio: Selfie Studio for Android is especially for selfie takers having front-facing cameras.
The app lets you mix your own color to photos, maximize flashlights effects on your selfie and add edit photos with intuitive tools. The app can be downloaded for free from Google Play.
3. Baby Selfie: Baby Selfie app is an amazingly revolutionary Android app by developer Matthew Pegula, from Pittsburgh, enables babies to their own selfies.
The app attracts babies attention by making sounds and then the app automatically captures a photo of the baby when it touches the screen.
The developer Mathew Pegula who is a dad to a six-month baby girl says," "Baby Selfie started out as a much more ambitious project that was going to try to determine when a baby was smiling, and report back to parents what the baby liked".
The app can be downloaded from Google Play Store for 99 cents. As per DailyMail 'No one is getting rich off of Baby Selfie,' he says.
'We've sold enough to buy my daughter a box or two of Pampers so far, so I'm happy with the results of my little weekend project.'
4. Morpho Self Camera: Morpho Self Camera provides you with voice guidance for the users to get a self-portrait. The app has various options to choose from which includes, "portrait" and "landscape", smile detection, the number of people and more.
To take a snap aim the camera at yourself from a required distance and follow oral guidance to get a better angle.
The app works best with higher end Android devices.
5. Camera360 Ultimate: Camera360 is the being downloaded by more than 250 million users worldwide with a good rating. It has multiple camera options which include Effect Cam, Selfie Cam, Easy Cam to name a few along with improved image processing engine to provide more than 100 awesome effects to your snap.
Share your snaps with your friends in social networking sites with ease. It will not cost you anything to try the wonderful app by downloading from Google Play.
6. Self Timer: Self Timer as per the name suggests lets you take a selfie, you will have to set the self-timer mode from 1 second to 1 minute and then activate the timer by pressing the button or by making noise. Download the app by paying $0.86 from Google Play.
The free version of the app is also available, however, the quality of the image is not very good.
Also Read: 10 Best Free Android Games 2014
Which is your favorite app to take Selfies on Android?