Buying a smartphone in 2014 is not going to be easier. To make your task easy, a list of best smartphones in 2014 worth buying.
The smartphone industry is evolving at a faster rate, we have seen new phones making a debut at CES 2014 followed by MWC coming month.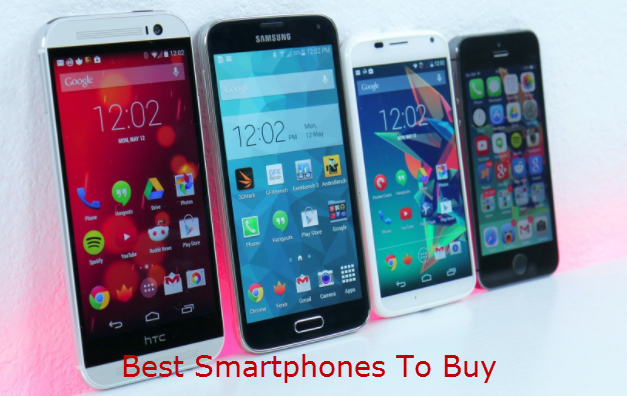 1. Sony Xperia Z1: Sony Xperia Z1 is a 5-inch smartphone providing the best of image quality with a 20.7 megapixels camera. The device has an internal memory of 16GB, is waterproof, dustproof and is available in white, black or purple colors.
2. Motorola Moto G: Motorola Moto G has sharpest 4.5″ HD display with a quad-core processor, Android 4.3 which will be upgraded to Android 4.4 KiKat. It is available in 8 GB and 16 GB version in black color.
Users get 2 years 50 GB storage free on Google Drive with the device.
3. Google Nexus 5: Nexus 5 is the first handset to feature the latest Android 4.4 KitKat. The device features 4.95-inch Full HD LCD display, 8MP camera, Quad Core 2.3 GHz Qualcomm Snapdragon processor and 16 or 32GB of storage.
4. iPhone 5S: Apple's iPhone 5S features 4-inch, a 64-bit A7 chip smartphone with latest iOS 7. It has fingerprint identity sensor and impressive iSight camera. iPhone 5S is available in beautiful Space Gray, Gold, Silver colors.
5. Samsung Galaxy S4: Samsung Galaxy S4 is beautiful, attractive 5-inch AMOLED display smartphone, powered by Octa-core Exynos processor at 1.6GHz, 2GB RAM, 13-megapixel rear camera. Galaxy S4 comes with new features such as Smart Scroll, Eye tracking technology, and Smart Pause which makes it worth buying.
6. Sony Xperia Z1 Compact: Xperia Z1 Compact smartphone was launched by Sony at CES 2014. It features 4.3-inch 1280 x 720p Triluminos display with X-Reality for mobile, runs on Android 4.3 Jelly Bean, powered by 2.2 GHz quad-core Snapdragon 800 processor. The smartphone is dust and water proof and has 16GB of Internal storage with up to 64GB expandable memory.
7. Lenovo Vibe Z: Lenovo Vibe Z is the first LTE smartphone unveiled by Lenovo featuring a 5.5-inch screen with a 1920×1080 pixel IPS display, 2.2GHZ Qualcomm Snapdragon 800 processor, 13-megapixel rear camera, 2GB of RAM and running on Android 4.3 Jelly Bean.
8. LG G2: LG G2 is stylish and most advanced smartphone sporting 5.2-inch full HD 1080p IPS display powered by 2.26GHz quad-core processor, 13MP camera with OIS to capture crisp, detailed and high-quality images. The smartphone features a rear Key on the back of the phone for intuitive left- or right-handed use. LG G2 has an excellent battery life and is available in black and white colors.
9. Nokia Lumia 1520: Nokia Lumia 1520 is 6.0-inch full HD AMOLED display, 20MP PureView camera with optical image stabilization running on Microsoft's Windows Phone 8 OS. The device is powered by 2.26 GHz Quad Core processor and has built-in Microsoft Office to view and edit Word, Excel and PowerPoint documents and save your documents to SkyDrive. 4 built-in microphones provides you with amazing sound clarity.
10. Samsung Galaxy S5: Samsung's next flagship smartphone Galaxy S5 is expected to be released in MWC next month. Galaxy S5 is expected to 5.25-inch QHD display of resolution 2560×1440 pixels, KitKat OS, 64-bit architecture based Exynos Octa-Core processor, 4GB RAM, 16-megapixel main camera with ISOCELL technology, 2.1-megapixel front camera, and Iris or fingerprint scanner for screen unlocking, wireless charging, metal body and more.
Also Read: Hottest Wearable Gadgets 2014