We have gone through the list of 8 Best Weather iPhone Apps and not keeping Android users far away, here is the list of best weather apps for Android.
Here Are Some Best Weather Apps Which You Should Install On Android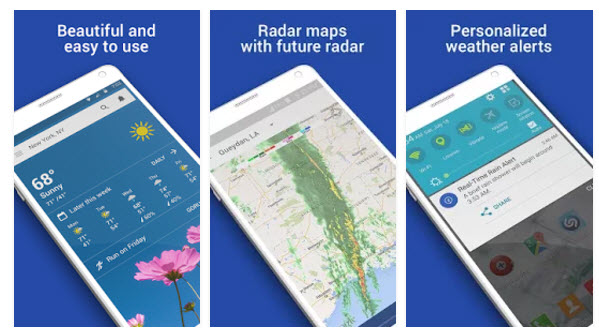 1. The Weather Channel: The Weather Channel is a free app which boasts of 200+ meteorologists and ultra-local forecasting technology to provide accurate weather information. The weather forecast is hourly, 36 hours and of ten days. "Find me" feature provides information of local weather at a particular point. Europe and US users are provided with alerts of severe weather. The app works with Android 2.1 and above.
2. WeatherBug: WeatherBug for Android is another free weather app which is being used widely. The app has features such as Live Weather Cams to provide a better picture of weather and Dangerous Thunderstorm Alerts (DTAs) which provides faster warning of severe weather. Other interesting features include "My Location" which updates you with a weather forecast of your place through GPS and the ability of share weather forecast to your friends in Facebook so that they are alert while venturing out.
3. AccuWeather for Android: AccuWeather for Android has a sleek UI and is being appreciated by many users. The app provides forecasts for 2.7 million locations all over accurately, has push notifications for severe weather alerts in the US and has customizable color themes. Share weather forecast with family and friends in social networking sites, store an unlimited amount of locations with the ability to save 10 locations as Favorites. Go ahead and download the app for free from Google Play.
4. Eye In Sky : Eye In Sky Weather app is one of the best paid weather app for Android developed by Tim Clark. The app has clean, simple and beautiful UI. It has 12 weather icon sets and you have the option to add your own icon set. App provides current, weekly, 48-hour forecast and for forecast for the coming 15 days. One of the cool feature of the app is that it can be customized as per your choice. Free version of the app is also available which supports ads.
5. WeatherPro: WeatherPro is another paid weather app for your Android providing weekly forecasts for more than two million locations around the globe. The app shows animated easy to read weather report and comes with a live wallpaper and improved widgets which let you see the weather of specified location without opening the app.
6. 1Weather 1Weather is the most beautiful free weather app for your Android which provides real-time weather forecast of any location around the world. It provides hourly, 48 hours and weekly forecast accurately. App has 3 widgets which can be added to Home screen, has live animated radar and extreme weather warnings for users in US and Canada. Customize the app with weather theme backgrounds and share weather reports with family and friends in social networking sites.
7. Weather Live: Weather Live is another beautiful paid weather app for Android providing multiple weather forecast around the world. The app provides hourly, 7-day and 24-hour weather forecast accurately with wind speed and locations. It comes with a customizable layout with weather widgets.
Which is your favorite Weather app for Android?