If you are planning to go out for a vacation then it is advisable that you check the weather of the place. Here are the top best weather apps for your iPhone which will help you to track weather.
1. The Weather Channel: The app has more than 200 meteorologists along with ultra-local TruPoint forecasting technology which provides an accurate weather forecast. App has a useful feature of "Severe Weather Push Alerts" which alerts about Hurricane warnings with Facebook integration enabling you to share weather with your friends in Facebook.
The app is available for a free download from App Store and is fully optimized for iPhone 5.
Try These Weather Apps On Your iPhone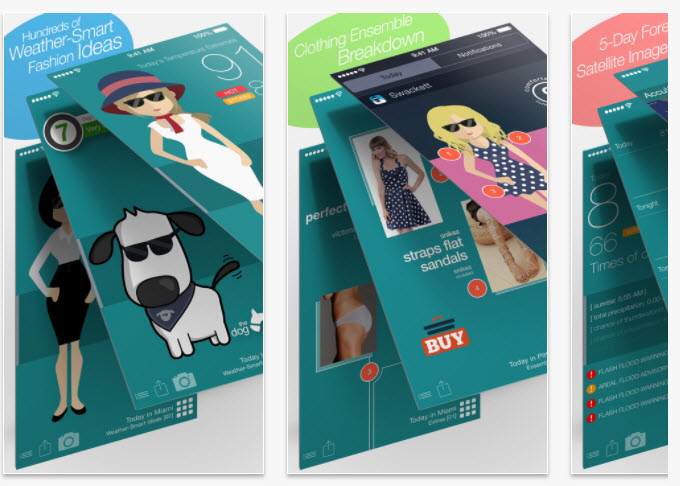 Also Read: 5 Travel iPhone Apps
2. Swackett: Swackett app provides visual weather reports which can be easily understood by users. It has built in PeepCast Radio and you can also share forecast on Twitter and Facebook for your friends so that they are alert while venturing out.
The app is compatible with iOS 6 and can is a free app in App Store.
3. AccuWeather for iPhone: AccuWeather for iPhone is one of the best weather iPhone apps providing hourly and 15-day forecasts for free. The app has a feature of Calendar Integration for viewing 15-day weather forecast and iCloud support.
4. Check the Weather: Check the Weather app provides weather data fast and accurate in a streamlined dashboard. It features VoiceOver accessibility support in seven languages. You get hourly and extended weather alerts. The latest version lets you share weather updates on social networking sites easily.
The app is available at $0.99 in Apple App Store.
5. Dark Sky: Dark Sky notifies you when it will rain or snow in advance, using GPS it provides you with the forecast for your location and Radar animation shows you the actual path of the storm. Unfortunately, currently, the app has support only for few places such as the United States, including Hawaii, Alaska, and Puerto Rico. Go ahead and download the app for $3.99 from App Store.
6. Partly Cloudy: Partly Cloudy is a paid weather app for your iPhone which shows you the weather forecast in a unique and intuitive way. It displays current, hourly, and weekly forecast in a clever clock graphic. The app also lets you track weather forecast of multiple locations accurately. Partly Cloudy is priced at $1.99.
7. Weather Time Machine Light: With Weather Time Machine Light you can get a detailed report of 40,000 location all over the US and Canada. Most interesting thing is that you can get weather reports from last 5 years and up to 3 months in advance. The app is available for a free download.
8. Weather: Weather app provides you with current weather conditions and forecast in your city and also from multiple locations around the globe. The app is optimized for newly released iPhone 5 and can be downloaded for free.
Which is your best Weather iPhone app ?