You bought a new Android smartphone for yourself and installed your favorite apps, games and wallpapers. The excitement of the new device fades away soon and at times you get tired of seeing the same wallpaper on your device. Changing wallpaper manually on your Android can be taxing for many including me. What if you can change wallpaper on Android automatically?
If changing wallpaper on Android sounds good to you there is an app for that! There are numerous apps on the Google Play which allows you to do change wallpaper on Android, however, one such app which can be just right for you is Wallpaper Changer by developer j4velin.
Change Wallpaper Automatically on Android Using Wallpaper Changer App 
The Wallpaper Changer lets you choose your photos or even complete albums as a wallpaper on the Home Screen of your Android. You can try some Lock Screen Replacement Apps For Android.
You can also set time interval to change wallpaper on your Android automatically.
Apps To Get Live Photos Feature On Android 
Configure Wallpaper Changer on Android 
First of all you will have to head over to the Google Play and install Wallpaper Changer on your Android.
Now, enable apps' live wallpaper by tapping on the Orange colored bar as shown in the pic below.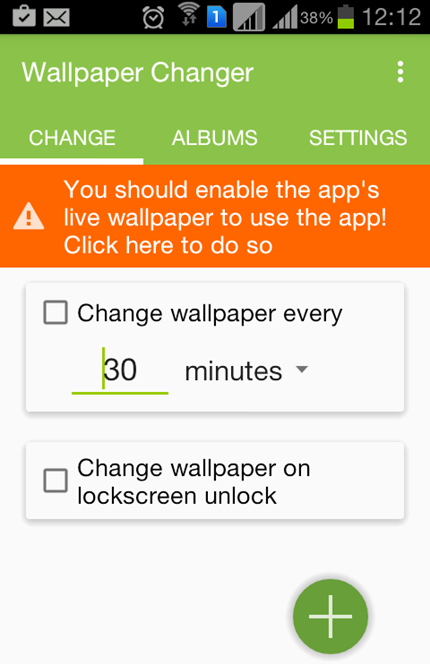 Select the time interval to change the wallpaper on your device. You have the option to select "change wallpaper after a specified time interval" or  "change wallpaper on lockscreen unlock".
Go to the "albums"  to select the wallpaper.
You have the option to "add a new album", " add image" , "add folder".  Select the wallpapers.
After the specified interval of time the wallpaper will start changing automatically.
In the "Settings" of the app you can change "image position", "image size", "auto-rescan", "random wallpaper" and more.
Have you tried to change wallpaper of your Android automatically?