Android is one of the popular operating systems for smartphones and tablets to browse the Internet. Android devices have a default browser, however, there are many other browsers available in Google Play Store which can provide a wonderful experience to browse on Android. listed below are best Android Web browsers.
Try These Free Best Browser On Your Android Device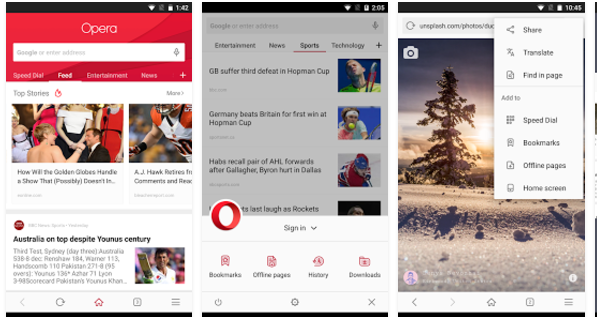 1. Chrome: Chrome for PC is one of the most popular and fastest browser, Chrome for Android works best with devices running Android 4.0 and above. Sign in to your Google account to sync your bookmarks, open tabs, send pages to your computer and read them offline while on the go. Other features include Omnibox to search from the address bar and Incognito mode for private browsing.
2. FireFox: FireFox for Android is similar in functions to its desktop counterpart, sync your bookmarks, passwords, history. Other features include mobile video support for various video formats, Render Mode, HTML5, Add-ons and more. It also comes with Do Not Track and private browsing for security concern people. If you use FireFox as your desktop browser then there is no harm in trying on your Android smartphone.
3. Dolphin Browser: Dolphin Browser has been rated as the No.1 Mobile Web Browser on Android Market with 50 million downloads. The browser is fast, simple and works great with touchscreen devices. Its prominent feature is the Sonar which lets you use your voice to search on the Internet. The browser supports gestures, bookmarking of websites, has more 60 add-ons. Dolphin Browser for sure enhances browsing experience on your Android.
Also Read: 10 Best Google Reader Alternatives
6 Free Wi-Fi File Sharing/Transfer Apps For Android
4. Opera Mobile web browser: Opera Mobile web browser is one of the fastest browsers for PC and for Android too. The browser features less data usage which is essential when you have limited data plan. It works great on fast network connections such as Wi-Fi, 3G and 4G. Sync your bookmarks and share your content on Facebook and Twitter easily. Opera is a good alternative to Dolphin browser on your Android.
5. Maxthon: Maxthon Android Browser is ideal for users who have multiple devices. The browser comes with loads of features which includes cloud syncing, private browsing, Reader Mode, integration with Facebook and Twitter and much more. Maxthon browser has no ads, supports tabbed browsing, has a download manager, been downloaded more than 600 million times, works like a charm on Nexus 7.
6. Boat Browser: Boat Browser is another free browser for your Android which is fast and can be easily customized. It comes with features such as tabbed browsing, gesture support, speed dial and bookmark syncing. The browser lets you re-arrange, add and remove buttons by drag and drop, personalize your theme and multiple Add-ons enhances your browsing experience.
Which Browser do you use on your Android ?