Sales of iPhone and Android apps have increased to billions in recent years, which indicates that smartphones apps have the capability to earn big money. Are you aware that you can earn some extra money by using your mobile apps? Obviously, you are not going to get rich, however, you will be able to make some extra cash using your smartphone by doing some tasks like taking photos, grocery shopping to name a few.
Make Money With These Apps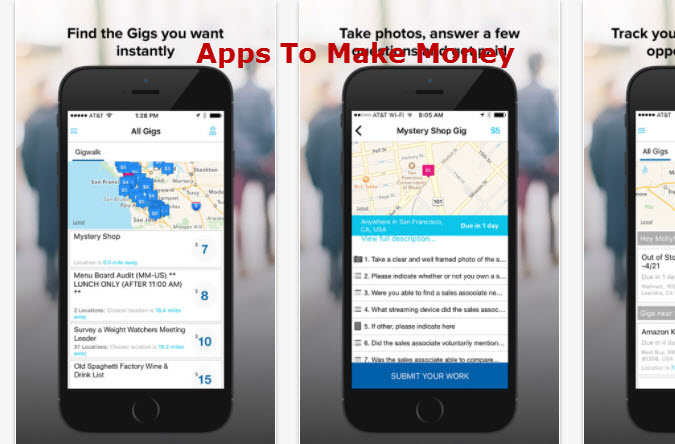 1. Field Agent: Field Agents employs you to do some research work from your iPhone. The task includes going to local grocery store or mall to check out prices of products or to take images of products in the store.
You will be required to complete the task in two hours and for each completed task payment is between $3 and $12 via PayPal. Go ahead and download Field Agent app for iOS devices.
2. Gigwalk: Gigwalk is another free app available for iOS and Android devices which pay you for completing a task in your area. The task may include taking a picture of a new restaurant, doing mystery shopping, testing mobile apps or completing a small survey.
The tasks or gigs range from $6 to $220. Experienced Gigwalker with a positive review from clients have options to earn better from gigs. You will be required to be approved to complete a task.
Download Gigwalk app for iOS and Android.
3. App Trailers: Preview trailers of apps and earn rewards for the same. The trailer of the app is of 30-secs. You won't be getting rich by reviewing apps but if you are among those who like to spend time on apps review might get paid.
App Trailers was created in 2011 by app developers who wanted to make users aware of the best parts of their mobile apps.
Download links for App Trailers app for iOS and Android.
4. ESPN Streak For The Cash: 9. ESPN Streak for the Cash offers the largest payout where users can compete to win prizes over $1.2 million annually. The users will have to predict the winner of sports competition and preview matches. The person with the longest streak will get the award at the end of the month.
If you are a sports fanatic, you might earn some good cash. The app can be downloaded for free for iOS and Android devices.
Link for iOS, link for Android.
5.Pact: Earn Cash for Living Healthy: Earn money to live healthy by those who aren't! The pact was formerly named as GymPact.
The app connects with the wearable gadgets and apps which include RunKeeper, Jawbone UP, Fitbit, MapMyFitness, and MyFitnessPal. You will have to make a pact to follow the healthy regime when you sign up for the app. You earn a reward starting from 30 cents to follow your healthy regime and you pay money if you skip your routine.
Link for iOS and link for Android.
Also Read: 5 Awesome Platforms to Develop Mobile Apps for your Business