Want to laugh? There is an app for that! Everybody wants to have some fun, Android Market has thousands of apps both free and paid for various purposes, many of the apps are designed to give you a laugh. We will be going through top free funny Android apps. Have you tried Android Office Apps to organize your work life?
These Funny Android Apps Will Make You Laugh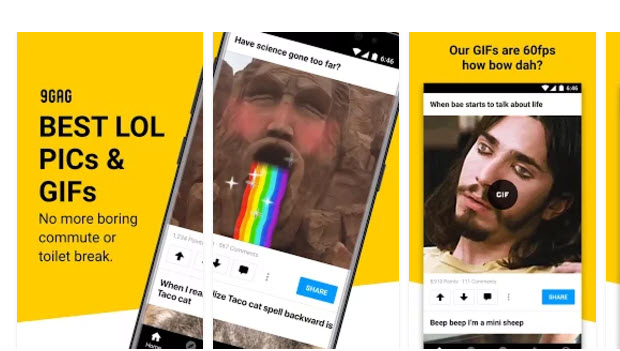 1. 9GAG: 9GAG is a popular site of funny pictures and now they have released the app for smartphones. Install the app on your Android and enjoy your daily humor, memes, funniest videos and more. Share your jokes with your friends on Facebook and Twitter.
2. LOL Pics: LOL Pics by Tap Tap Entertainment is your daily dose of laughter. They have a huge database of funny pictures which are updated every day in various categories. Add funny and hilarious pictures yourself, rate the pictures already added, add your comment and share on social networking sites or download those hilarious pictures on your device.
3. Funny Facts Free 8000+: The app has all the craziest and funniest facts, find about the world records, a human body, nature, science, celebrities, strange laws and more. With this app on your Android, you will be never bored.
4. Funny Jokes: Funny Jokes by developer Swiss Codemonkeys is the best jokes app for Android. Kill your time by going through thousands of jokes in various categories, add your own joke and share them with your friends via SMS, text message, Twitter or Facebook. Funny jokes which will make you laugh again and again.
5. 18,000 COOL JOKES: Feeling low, want to smile? 18,000 COOL JOKES app will provide you more and more jokes to laugh at and tell your friends. The app has various categories of jokes, search jokes by using keywords, there are jokes for kids too.
6. FatBooth: FatBooth for iPhone is a popular one by the creators of AgingBooth, BaldBooth, MixBooth, UglyBooth & BoothStache and now they have also created an app for the Android. The app is really funny, it lets you put extra pounds to your pictures and let it share with your friends. Shake your device to see your pictures before and after adding few extra pounds. The app is purely for fun, should not be taken seriously.
Also Read: 10 Best Free Android Games 2014
7. Funny Kids Cams: The app lets you to frame the faces of your kids in a number of funny outfits and to save them as memories. However, the app has not been updated since a long time.
8. LOL Funny Status 4 Facebook: If you feel that your friends are funnier than you then probably they are using this app to update their status on Facebook. Go through thousands of funny status update and post them directly on Facebook.
Do share your favorite funny Android apps!