Most of us are in a habit of upgrading to latest smartphones available in the market! Have you ever thought that your old Android phone or tablet which is now no use for you can be used as a remote spy camera for your home surveillance or to monitor your business while you are away? You can easily convert your old Android phone into a remote spy camera using the third-party apps from the Google Play Store.
How To Convert Android Phone Into A Remote Spy Camera?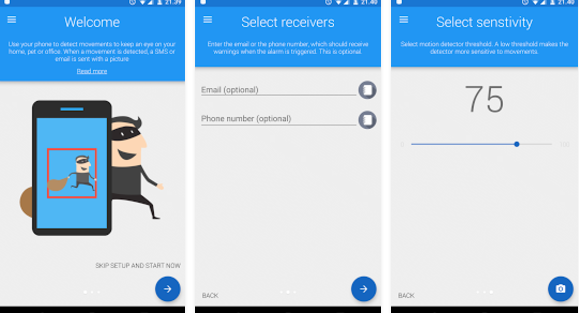 Motion Detector Pro is a camera surveillance app for Android which uses the inbuilt camera to detect movements in the surrounding area. If the app detects it will send an email or a text message with a picture link to another phone to monitor the area remotely.
The app is free to download from Google Play.
Also Read: How To Save Battery Life of your Android – Important Tips and Battery Saver Apps
Android Spy Software Increases Chances Of Longevity In A Romantic Relation

Features:
*Take a picture when the camera sees a movement and send it to an email or another phone. Great for catching thieves, watching your business/home or keeping an eye on your pet
* Start surveillance remotely by using text messages (with password protection)
* Indicate realtime on the display of the phone where the movement is detected
* Stealth mode which closes the app as soon as the phone is touched
* Store the surveillance images on the cloud or locally on the phones SD-card
2. IP Webcam
Turn your old Android phone into a Network Camera with free IP Webcam Android. The app lets you to stream video wirelessly without the Internet.
Features:
Motion detection with a sound trigger.
Has support for Videochat.
Use of third party software.
Easily change IP Webcam Settings like video preferences, effects, motion detection, customize camera settings, login/password and more.