Wearable gadgets have emerged as a trend in 2014, smartwatches, smart jewelry, fitness tracker and more have come up in CES 2014. Here is the list of hottest wearable gadgets 2014.
Check Out These Hottest Wearable Gadgets 2014 Worth Buying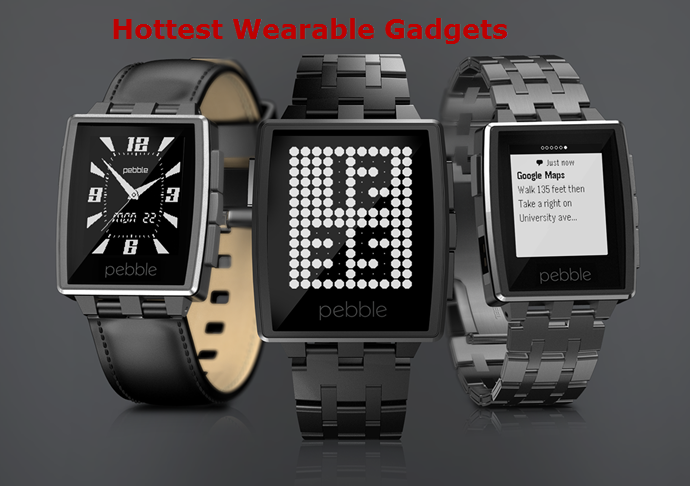 1. Pebble Steel Smartwatch: Pebble Steel Smartwatch was launched last year, is one of the best-selling smartwatch globally. The second-gen Pebble Smartwatch model comes with a stainless steel body, Corning Gorilla Glass.
Pebble will be launching its official app store, the Steel Smartwatch is expected to be most opted smartwatch with an expected price of $249.
2. Netatmo June Bracelet: Netatmo June Bracelet is aimed at women, is an awesome piece of jewelry which tracks your exposure to the sun and helps to protect your skin from sun damage by telling which sunscreen you should apply. The bracelet requires you to sync with your iOS device and will be priced at under $100.
3. LG Lifeband Touch: LG's Lifeband Touch sports a touch-enabled OLED display, it shows time, notifications of incoming calls. The device has in-built sensors to record physical activities.
LG's health tracker is more or less similar to Nike+ FuelBand.
4. Razer Nabu: Razer which is known for gaming accessories has introduced a smart band which works fine with both iOS and Android devices.
Razer Nabu comes with dual OLED displays- one on top and another at the back of your wrist. The top screen is called Public Icon Screen which shows notifications which are safe to see in public. The Private Message Screen on the back shows a detailed text message.
Razer Nabu keeps tracks of your calories burnt like other smart wearables and supports gestures.
5. Lumo Lift: Lumo Lift by Lumo BodyTech is a small magnetic device with a sensor which you can easily wear under your shirt or collar designed to improve your body posture. The device will vibrate when you start slouching.
Lumo Lift is expected to start shipping by Spring 2014, with pre-orders now.
6. 3D Printed Jewelry : 3D printers are making a stir at CES 2014 in Las Vegas. American Pearl is using 3D printing to let customers customize and create their jewelry create their own gold, silver and diamond jewelry.
"What we love about 3D printing is that consumers save a lot of money and lot of time having something 3D printed," said Eddie Bakhash, CEO, and son of the founder of American Pearl.
7. LG Heart Rate Earphones: After announcing LG Lifeband Touch, it has unveiled earphones which will measure your heartbeat using sensor technology. The device will play music as well as take calls.
8. RunPhones : RunPhones headbands by AcousticSheep, is a soft tech-band with integrated headphones which can be removed while washing. The headphone will not come out or become loose while running, listen to music while workout.
Also Read: 10 Most Anticipated Games of 2014
Will you like to purchase these hottest wearable gadgets in 2014?