Want to transfer files in Android over Wi-Fi? Listed below are few best Wi-Fi file transfer apps for Android. File transfer over Wi-Fi is fast and easy, with no limit on speed.
1. WiFi File Transfer: WiFi File Transfer has an easy user interface which lets you upload and download multiple files from your Android device over Wi-Fi with ease. To transfer file your computer and your device should be on same local area network. The free version enables you to upload files only up to 4 MB. Paid version of the app has no restriction on the size of the file which you want to upload. You password while using the app on public WiFi networks.
2. AirDroid: AirDroid is one of the best Android app to transfer the file over Wi-Fi. The app has been installed 5 million times and counting. The app comes with simple drag and drop feature, good for multi-tasking. The app lets you to send or receive SMS, install/uninstall apps, play, search or download music, download or upload photos easily and much more. You can your device screen, take screenshot by providing root access. Air Droid is compatible with Android 2.1 or later.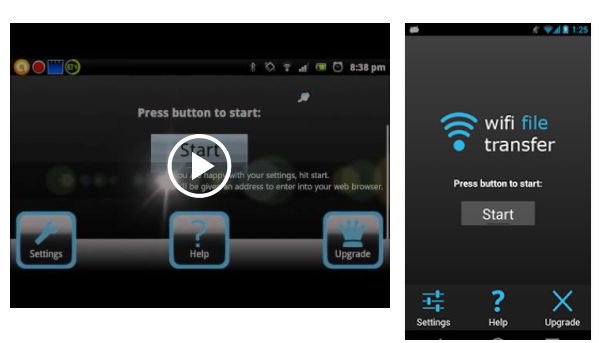 3. Kies Air: Kies Air is being developed by Samsung Electronics MSDG lets you to manage data saved on your Android through computer over Wi-Fi network without USB cable. You can perform various functions which includes sharing multimedia file, listening to music, send text message and more. Connect kies Air easily to your computer from your device by entering 4-digit PIN on your device when prompted. The app requires Android 2.2 and above to work.
4. WiFi File Explorer: WiFi File Explorer by dooblou is a popular Wi-Fi file sharing app which has received good reviews by users and has crossed 1 million users. Easily browse and download files, view camera pictures and videos, listen to music on your device over Wi-Fi using web browser. The app has password protection so no worries while you transfer files. The paid version of the app comes with more features and improvement.
Also Read: 10 Best Google Reader Alternatives
5. File Expert Manager Explorer: File Expert Manager Explorer by Geek Software Technology Inc has support for 22 languages and requires Android 2.2 and later to work. It lets you to manage data and files on your device, computer and cloud storage servers like Google Drive, Dropbox. With its Quick Send support feature you can send files in just few seconds.
6. WebSharingLite File/Media Sync: WebSharingLite File/Media Sync by NextApp, Inc. enables you to transfer files over Wi-Fi between your Android and computer. The paid version of the app priced at $2.99 lets you to transfer multiple files along with music, photos and videos.
Do share, if you know any other Wi-Fi file transfer apps for Android !