Although lots of websites nowadays have video content in some form or other, they tend to include it differently. Some websites may embed the content from YouTube or some other video sharing platform, while others may self-host it and use their own video player. Most websites will not give you the option to download or save their videos, however, which will mean that you need to be online every time you want to watch them.If you would like to get around that limitation, your best bet is to extract the videos that you want to save using Movavi Screen Capture. Due to the fact that it is a screen recorder, it can extract videos by essentially recording them directly from your screen and then saving them onto your hard drive.
In order to extract the video properly, you should ensure that the appropriate recording area is selected and Movavi Screen Capture is set to record the system audio as well. Fortunately, neither of those things are difficult to accomplish, and you can select the recording area by drawing a frame on screen with your mouse cursor or using one of the presets in the list that is available. Similarly to record the system audio you need only ensure the appropriate icon is highlighted.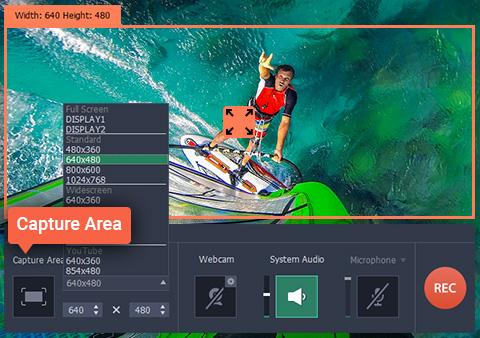 Once the recording parameters are set up as such, you can begin the recording and play the video from the website at the same time. If you want you can use the on-screen controls to start, stop and pause the recording, or use hotkeys (F9 and F10) to manage it instead. Assuming you aren't free enough to stick around and manually manage the recording, you could even set a timer in Movavi Screen Capture to stop it after a certain duration or schedule both the start and stop time.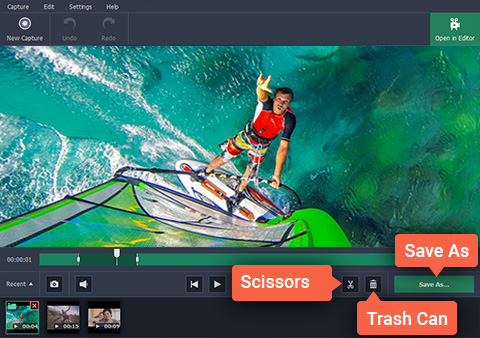 As soon as you do stop the recording Movavi Screen Capture will automatically save it as an MKV file and open a preview window so you can review it. In that preview window, you will be able to split the video into segments and trim out any parts that you don't need, and can then save it. Even if you don't want to alter your video you may want to save it in a different format or use one of the presets to automatically optimize it for a particular device or platform.
Considering you probably already have some website videos that you love to watch repeatedly, you may want to start by extracting them with Movavi Screen Capture and you can click to visit the website if you need further instructions. Not only will this let you get a feel for how it works, but you'll also end up being able to save your favorite videos so you can watch them even if you're offline.