Apple has released iOS 11.0.3 update for iPhone, iPad, and iPod Touch which includes bugs fixes. As per the release note, the software update fixes audio and haptic feedback not working on some iPhone 7 and iPhone 7 Plus devices, it also fixes an issue where touch input was unresponsive on iPhone 6s screens because they were replaced from some third-party sources. The latest iOS 11.0.3 is available OTA or via iTunes on PC/Mac. Find the direct download links of iOS 11.0.3 for iPhone, iPad, and iPod Touch.
Update iPhone, iPad To iOS 11.0.3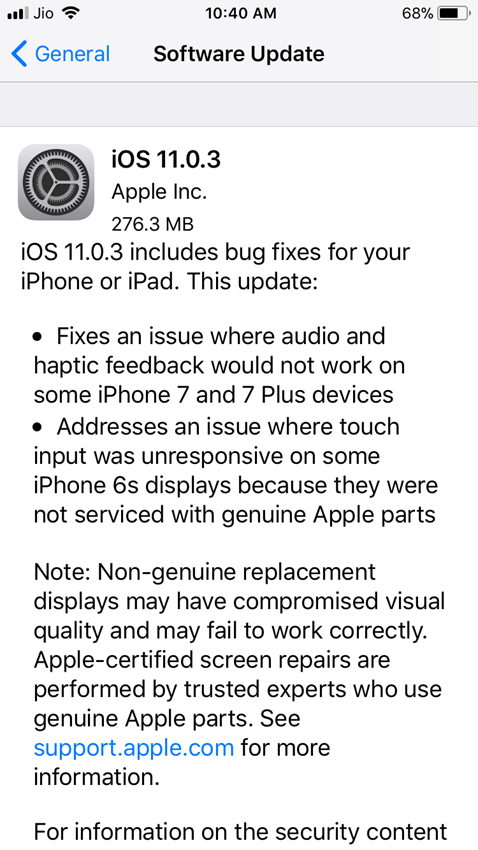 You can download and install iOS 11.0.3 via OTA on iPhone, iPad, and iPod Touch.
Launch Settings app from your Home screen.
Now, Tap on General.
Tap on Software Update.
Tap on Download and Install.
You can also install iOS 11.0.3 via iTunes by taking a backup of iPhone, iPad using iCloud and iTunes.
Install iOS 11.0.3 Using iTunes on Mac/PC
1. Take Backup Of iPhone, iPad using iTunes and iCloud 
To take a backup of your iPhone, iPad, and iPod Touch, connect your device to Mac/PC via USB cable.
Launch iTunes and wait till iTunes detects your device.
Once your device is detected, select backup.
Set backup to This Computer.
Take a backup of music,  photos, videos, apps, and other data.
 Automatic Backup of iPhone, iPad Using iCloud
Launch the Settings app on your iPhone, iPad
Tap on iCloud. Log in to your iCloud account, if not logged in.
Tap on Backup by scrolling down.
2. Connect your iPhone, iPad or iPod touch to your computer using USB cable.
3. Now, select the device in iTunes.
4. Windows users hold down "SHIFT" key and then click on "Update" whereas, Mac users will have to hold down the "Option" key and then click on "Update".
5. Select the "IPSW file" you downloaded and click "Choose".
6. Wait till your device gets updated.
iOS 11.0.3 IPSW Direct Download Links
iPad Pro 12.9-inch 2nd generation
iPad Pro 12.9‑inch 1st generation