Smartphones have simplified our lives, learning new languages is a child play! You can either learn a particular language by attending coaching classes from experts or of your own by reading and practice.
If you want to learn English and have a smartphone, you can learn English easily while on go.
Listed below are some mobile apps for learning English faster.
Learn English With These Free Mobiles Apps
Recommended: Best Math Apps for iPad – Best Math Apps for kids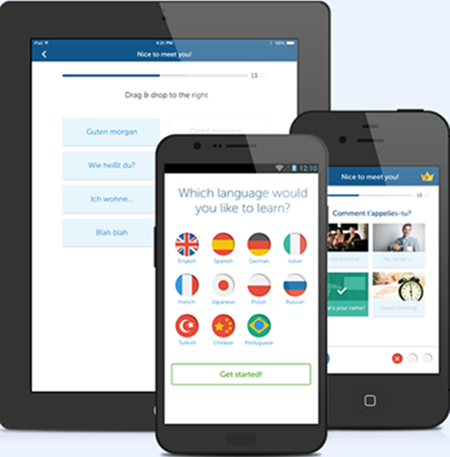 1. Busuu
Busuu offers a fun and interactive way to learn English which is based on Common European Framework of Reference for Languages (CEFR).
This app features a wide range of 150 topics, more than 3,000 words and expressions. It includes vocabulary and grammar lessons, audio dialogues and interactive tests. Busuu app has levels which is ideal for beginners and advanced. It is available for download on iPhone and Android. The free version offers 20 units.
2. SpeakingPal English Tutor
SpeakingPal English Tutor is an interesting and highly interactive app which has speech recognition technology which helps you improve English. It has more than 1000 levels, different dialogs, sentences and vocabulary items. One of the best thing about SpeakingPal English is that it has a series of mini-lessons of approximately 5 minutes which lets users to utilize their idle time.The free version offers only 16 levels.
3. Voxy
Voxy is one of the most popular app having more than 3 million users globally. Voxy is ideal for users who are preparing for TOEFL or are working with English speaking clients. It features news and stories on various topics, private tutoring, games for language practice, karaoke-style lessons, real time progress tracking and more.
4. MyWordBook 2
MyWordBook 2 app is in association with Cambridge University Press dictionaries. It is an an interactive vocabulary notebook app which provides users new way to learn English words through sets of interactive flashcards. The flashcards contain pictures, sounds and sentences which helps you to remember those words. You can also create your own flashcards and add images.
5. LearnEnglish Grammar (US Edition)
LearnEnglish Grammar (US Edition) is one of the best app to improve your English grammar. The app has a set of questions which covers 12 grammar topics, with over 20 activities per topic. 1000 practice questions across 10 unique activity types which helps you to improve your grammar. The app also has UK Edition of grammar.
6. Phrasalstein
Phrasalstein helps you to improve phrasal verbs in English grammar. The app is designed like a classic horror movie, has 100 phrasal verbs which it will teach you through animations. The app will provide meanings and example sentences and translations in various languages such as Spanish, German, Italian, Russian and French.
7. Memrise
Memrise offers free courses in various popular languages including English. The app has integration with your Memrise.com account along with offline mode so that you can learn even if there is no Internet connection. With Mmemrise you can earn points while learning and competing against friends.
Are you aware of any other mobile apps to learn English for free? Do share your views in comment below!