Choosing an Accounting software is one the most decision businesses should take to save time and money. An Accounting software lets you keep a track of your bill payments, invoice, inventory, tax, and other financial reports. For Small business owners who prefer to do things on their own, an Accounting software will help them to focus on growing their business and taking the headache out of manually carrying out Accounting and bookkeeping tasks. Whether you are a small business owner, a big organization or a startup you will have to choose an Accounting software depending on your requirement and budget. A big business will require an expensive Accounting software package which will include features such payroll, financial forecast, inventory management, financial statements/reports and much more whereas small businesses require an Accounting software for invoicing, tracking of expenses and basic financial reports.
An Accounting software should be user-friendly and customizable to suit your future requirements. Choosing the right Accounting software for your business can be a daunting task, listed below are the best Accounting software some of which are cloud-based while others are online and desktop versions.
Best Accounting Software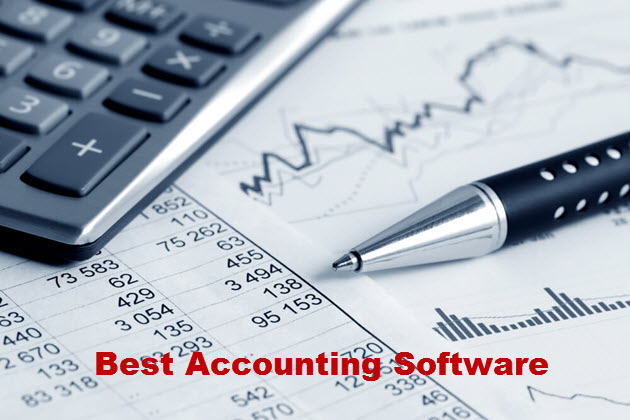 1.  QuickBooks
QuickBooks is easy to use, simple and time-saving Accounting software used by various businesses to manage their Accounts hasslefree. QuickBooks offers 30- days free trial to its users and it makes the Accounting process automated by managing bills, income & expenses, invoicing, managing contractors to name some. You can add multiple users, run reports, take payments anywhere, prepare tax and file tax returns, receive and repay funds.
QuickBooks Self-Employed plans for independent contractors is the basic plan priced at $5 per month currently, the Simple Start plan for a single user will cost $ 10/month, the Essentials plan for small businesses is priced at $24/month. The Plus plan will cost you $35/month will let you track inventory, create a budget and manage 1099 contractors.
2. FreshBooks
FreshBooks is perhaps one of the best Accounting software for small business owners by creating professional invoices, tracking expenses, estimates, payments, reporting and time tracking. It also has mobile accounting app for iOS and Android users which enables you to accomplish your accounting task from anywhere seamlessly.
FreshBooks Lite for 5 clients is priced at $15 per month, the Plus plan available for 50 clients will cost you $25 per month while the Premium Plan is priced at $50 per month for 500 clients.
3. Sage One
Make accounting and invoicing simple with Sage One cloud-based Accounting software for small businesses. Sage One Accounting software lets you create professional looking customizable business estimate spreadsheets, create and send an online invoice, make reports, link your bank accounts. You can access all your financial information for a single dashboard, make payments to customers in all major global currencies.
Sage One seamlessly connects with other applications which you use for your business. The free version of Sage One is available for a single user and can send up to five invoices a month. Premium users of Sage One have the option to link it with your Accountant.
Sage One (Accounting) is priced at $10 per month.
4. Wave
Wave is another free online Accounting software for businesses which enables you to create and send unlimited professional invoices, track income and expenses, add credit card processing, payroll system right from the dashboard. If you have less than 10 employees and you are a freelancer or work in contract, Wave is the best option for you.
Wave is a free software to use for accounting with no hidden cost. It also offers credit card processing and payroll services in select cities of the world.
5. Zoho
Zoho is a simple and easy to use Accounting software for small businesses which has features including creating an invoice, tracking inventory and expenses, time tracking and banking.
Zoho comes with a free trial of 14 days while Basic Plan of Zoho will cost you $9 per month. Go ahead with the free trial to find if it suits your requirement before buying.
6.  Xero
Xero has a beautiful customizable dashboard which enables you to monitor invoices, bills, inventory and bank balances in real-time. With its automated system, Xero pulls direct bank feeds from your bank accounts and also reconcile bank transactions with a single click. It also features multiple bills payment in one transaction where you can make a payment to suppliers in batches.
Xero Accounting software is available for a 30-day free trial while the Starter plan is $9 per month which lets you send 5 invoices and quotes, enter 5 bills and reconcile 20 bank transactions.
7. Kashoo
Kashoo is among one of the best Accounting software which has an easy to use intuitive user interface which enables you to create an invoice, track expenses, and cash flow. It is cloud-based and with its mobile apps, you will be track expenses on the go.  Kashoo also comes with an amazing free support helping you in managing business account efficiently.
Kashoo is priced at $29.95/month.
8. OneUp
OneUp is an ideal Accounting software for small businesses who opt for accounting solutions on their mobile devices, it has partnered with Google Apps and Square. The features include accounting, invoicing, inventory and CRM.
OneUp will cost you $9 per month.
9. FreeAgent
FreeAgent is a popular Accounting software for small businesses and freelancers which lets you create professional looking invoices by adding your company logo and details. Keep a track of your business payment and 'out-of-pocket' expenses, view the list of your expenses the overview screen and add new expenses. Connect your bank accounts with FreeAgent to receive automatic bank feeds which will give you a view of business cash flow.
FreeAgent is available for a free trial with an option of $10 /month for 6 months.
10. NetSuite
If you are running an enterprise or a big organization then NetSuite is the best Accounting software for you. NetSuite provides real-time data analytics which makes easy to make business decisions and has various accounting tools like CRM, Professional Services Automation, ERP and more.
What are your views about these best Accounting software?