Video editing is not only for the professionals, thanks to the latest technological advancement which has made video editing easier for amateurs. If you have a raw video footage taken from your smartphone or a DSLR camera you can edit the video and upload to YouTube or share with others on Facebook. There are various video-editing software or tools available online which you can download for free or buy depending upon on your requirement and the amount you are willing to spend. If you are a beginner, you might opt for a free video editing software which comes with limited features. A high-end professional video editing software used in Hollywood movies are very expensive and are loaded with features worth buying. Choosing the right video editing software can be a daunting task, let us go through the list of best video editing software for Windows and Mac users.
Best Video Editing Software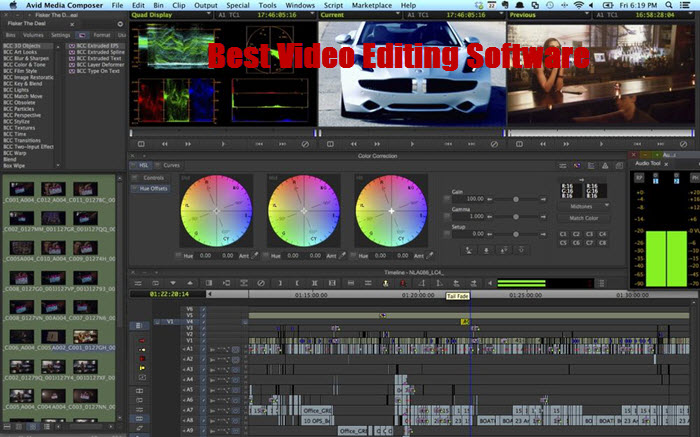 1. Adobe Premiere Pro CC
Adobe Premiere Pro is one of the trusted names in video editing, the video editing software has a powerful and clean user interface with features worth buying. Adobe Premiere Pro integrates with Adobe Photoshop, After Effects and Adobe Audio letting you create visually stunning videos. The latest version CC of Premiere Pro is very powerful letting you work on multiple projects simultaneously, adding virtual reality effects to 360/VR videos and tons of other transitions and effects to the videos. With so many awesome features, Adobe Premiere Pro CC is one of the best video editing software which you should buy.
Price: $19.99 (billed monthly)
Best Code Editors For Windows and Mac 
2.  Final Cut Pro
Final Cut Pro is the best video editing software for Mac users developed by Apple Inc. The key features of this video editing software include a magnetic timeline, grouping tools, color grading and audio editing. The auditions feature lets you find the perfect shot by going through the different shots, graphics.  Add animated 3D titles to your videos in different formats such as ProRes, RED, XAVC, AVCHD, H.264 from DSLRs.
Final Cut Pro comes with a high price tag of $299.99.
3. AVS Video Editor 
If you are searching for an easy to use professional video editing software for Windows then AVS Video Editor is the right choice for you. The video editor lets you trim, cut, split, merge, rotate, add subtitles, mix videos as per your requirement. You have the option to select between various effects and transitions to add to your videos. Create beautiful slideshows of your holiday videos, edit Blu-ray videos, record your videos and share your creations on Facebook or Twitter. It supports major video formats which include AVI, VOB, MP4, DVD, WMV, 3GP, MOV, and MKV.
Price: $39 for 1 year and $59 for unlimited access
4. Corel VideoStudio Ultimate X10
Corel VideoStudio Ultimate X10 has an easy to use intuitive user interface ideal for the beginners. The video editor supports multi-camera editing, 360-degree VR video editing, royalty free music library and more. Edit videos in HD and 4K, apply various effects and filters, enhance the video color, add 3D titles and share your videos on Facebook or create CD/DVDs.
Price:  $79.99 for Windows
5. iMovie
iMovie is a simple and intuitive video editing software for Mac users by Apple Inc. With iMovie on your Mac, you can easily create Hollywood-style trailers and amazing 4K-resolution movies. Add animated titles, extra-special effects, soundtracks, high-quality filters and share your creation with others via iMessage or on Facebook. If you are a Mac user you should definitely try iMovie which comes pre-installed.
Price: Free
6. CyberLink Power Director
CyberLink Power Director is an excellent video editing software for those who want professional quality videos without spending much. The Express Project feature of the software lets you create a high-quality professional video in easy 1-2-3 step. You will have to just load the video, add style, clips, and audio to the video, once you are done with the editing share your video on social networks. TrueTheater Color analyzes the color of video and adds hue and brightness to them to make them more lively. CyberLink Power Director has support for 360-degree video editing.
It has a designer tool which consists of Mask designer, Menu designer, Title designer, Transition designer, Theme designer and PiP designer.
Price: $59.99
7. Pinnacle Studio
Take your creativity to a new level by editing videos like a pro using Pinnacle Studio. The video editor has an amazingly easy to use interface with power packed features. It offers features such as multi-track timeline editing, drag and drop video editing, multi-camera video editing, split screen video and more. Add 3D titles, filters, effects, and audio to your videos and share them online or create a DVD.
Price: starting  $59.95
8. LightWorks Pro
LightWorks Pro is an award-winning video editor for Windows, Mac and Linux users. The software was used in film-editing of great movies like The Wolf of Wall Street and more. LightWorks Pro has an easy to use intuitive user interface and comes loaded with amazing features which include easy timeline editing & trimming, real-time ready to use audio & video FX. It supports resolution up to 4K along with videos in SD and HD formats.
Price: $24.99 per month
9. Adobe Premiere Elements
Whether you are a professional or an amateur you are sure going to love this excellent video editing software from Adobe. Adobe Premiere Elements comes with an easy to use interface- find, view, and organize your photos, videos based on the events, date, and places. The video editor lets you add slow-motion effects, music and audio effects, adjust clip color and edit high-resolution 4K movies at ease.
Adobe Premiere Elements is priced at $79.99 and available for Windows and Mac.
10. Wondershare Filmora
Wondershare Flimora is another easy to use video editing software for Windows and Mac users loaded with powerful features. The video editor supports popular video and audio formats and lets you trim, cut, rotate and join videos by adding various transitions, sound, and texts. The software includes some powerful tools like Tilt-shif, Mosaic, and Face Off, Picture-in-picture, Split screen, and Green screen and more.
Wondershare Filmora is available for a free trial. The paid version of the video editing software is priced at 39.99/year.
Have you tried the above mentioned best video editing software? Which is your favorite one, share your views in the comment below!