Technology has simplified a lot of things, including movie-making. If you have the right iPhone and iPad apps for movie-making you can also create movies like Hollywood.
Let us check out some of the best movie-making apps for iPhone and iPad, with these apps you can not only film movies/videos but can also edit them, add filters, special effects and much more. Some of these best movie-making apps for iPhone, iPad are paid apps while others are free.
Best Apple TV Apps For Watching Movies And TV Shows
Top Best Sites To Watch Movies Online For Free
Best Movie-Making Apps For iPhone, iPad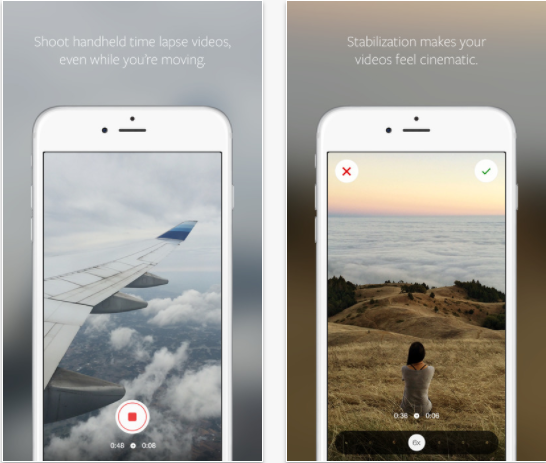 Apple's iMovie is one of the best movie-making apps to create a Hollywood-style video. The app features 14 trailer templates with superb graphics to create a trailer for your upcoming flick. You can easily customize movie studio logos, titles, and credits as per your choice. Choose video-filters, add slow-motion to videos, add sound-effect or add songs from your music library and edit movies in a jiffy. Send your finished movies to Vimeo or Facebook or continue editing on your Mac.
Price: $4.99
Pinnacle Studio Pro app is ideal for creating a professional quality movie. You can arrange clips in the Storyboard, add transitions, effects, and a soundtrack. Easily edits and trim individual frames, pan, and zoom on your photos, create slow motion and fast motion effects or create your own soundtrack and share the movie created.
Price: $12.99
Hyperlapse by Instagram lets you shoot professional time-lapse videos using in-house stabilization technology. Take a video while walking, running, jumping or falling and make it smooth using automatic stabilization. You can speed up your video up to 12 times the speed and share them on Instagram. Can you imagine of shooting sunrise in just 10 seconds sitting at the back of a motorbike?
Price: Free
Create Stop-motion animations on your iPad using iStopMotion easily. You can make your kids create their own animation movie with their favorite LEGO toys.The app comes packed with some great features, camera overlay lets you see your last shot and you can use iPhone as your remote camera to shoot.
Price: $11.99
Create professional looking fun videos using this free Animoto Video Slideshow Maker for iPhone and iPad. You can select photos and video clips from your Camera Roll and customize them by choosing from different video styles. Add songs and caption to the videos and share them with others.
Price: Free
Turn your photos and videos into magical video stories to share with your friends and family using this free app on iPhone and iPad. The app has more than 80 million users globally and is easy to use. Add photos or videos and music from your gallery to create a stunning video. You can apply automatic video stabilization, facial recognition, video filters, video effects to turn your photos and videos into video stories.
Price: Free
Add Hollywood FX to your videos on iPhone easily using Action Movie FX. The app features seven exclusive Star Wars FX created by the movie makers of Star Wars. If you want extra effects you will have to buy the premium pack. Share your creation with others as GIF on various social networking sites.
Price: Free
FiLMiC Pro is a good movie-making app for iPhone and iPad with some awesome features. The app supports action slider with extensive controls for live shooting adjustments, slow and fast motion FX options, time-lapse and much more. After creating the movie you have the option to share on Dropbox, Facebook and others. If you are looking to create a professional quality movie then it is a must-have on your iPhone.
Price: $9.99
Have yo tried using movie-making apps on your iPhone, iPad to create a professional quality movie? If you are aware of other movie-making apps feel free to share your thoughts below!