The holiday season reminds us of the family activities, the decorations and of course gifts!  The holiday season can be quite stressful in our busy lives, buying gifts and preparing for the celebrations can be quite hectic. Are you searching for ideas to buy gifts for your family, friends, colleagues and other loved ones? Don't want to burn your pocket in buying gifts for your loved ones? Check out the list of best tech gifts under $50 which includes Amazon Echo Dot, Google Home Mini, Wireless headphones, Keychain and much more. All these tech gifts under $50 are hottest tech items which will for sure bring a smile to your loved ones. Keep your kids busy with these best laptops for kids and online Christmas games for kids while you shop!
Best Tech Gifts Under $50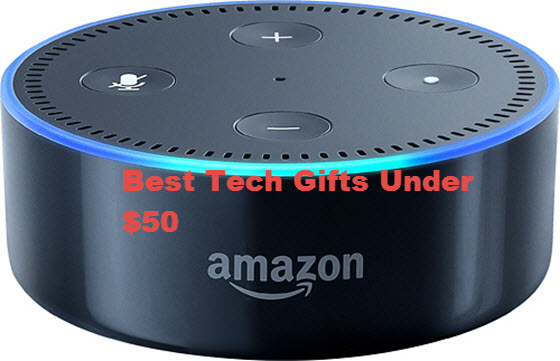 1. Amazon Echo Dot
Amazon Echo Dot is the small factor form of Amazon Echo priced under $50 which connects with Amazon Alexa to perform various tasks which include to play music, control smart home devices, make calls, order Uber, read audiobooks and more. It features 7 far-field microphones for hands-free control and can hear you across a noisy room clearly. Amazon Echo Dot can be a worthy tech gift under $50 for your loved ones as Amazon is adding new features and commands to Alexa powered Echo Dot.
2. Roku Express – HD Streaming Player
Make your TV smart with Roku Express without having to pay any monthly equipment rental fees. Roku Express comes with  HDMI cable and an easy setup providing you with amazingly fast 1080p HD streaming. With Roku Express you get access to more than  450,000 movies and TV episodes from  Netflix, Amazon Video, Hulu, and others. Search channels using voice commands, title or name of the actor easily. If someone in your family or friend needs a streaming player for TV, Roku Express at $25 is the right gift for him/her.
3. Amazon Fire 7 Tablet
Amazon Fire 7 Tablet, no doubt one of the best sellers on Amazon is powered with Alexa. The device is stunning having a display of 7″ IPS, powered by a 1.3 GHz quad-core processor and provides a battery life of up to 8 hours of battery life. With Amazon Prime membership, the tablet provides you with an unlimited access to movies, books, songs. Ask Alexa to play music, get news or weather report before venturing out just by pressing the Home button of the tablet. Amazon Fire 7 Tablet is priced under $50.
4. Amazon Fire TV Stick with Alexa
Amazon Fire TV Stick converts your old TV to a Smart TV to stream media content. The Amazon Fire TV Stick can work with any TV which has an HDMI port. Simply plug Fire TV Stick into HDMI port of your TV, connect to Wi-Fi, and watch Netflix, Hulu, HBO NOW, YouTube, Amazon Video.
The Fire TV Stick comes with Alexa Voice Remote which allows you to search, play movies or order pizza using your voice. With Amazon Prime Membership you have the access to thousands of movies and TV episodes.
Amazon Fire TV Stick is priced at $40 and is value for money.
5.  Google Chromecast 
Google Chromecast connects to any TV and allows you to watch video, music, and games. Use your phone as a remote control and choose to watch from Netflix, HBO Now and Pandora. To use Google Chromecast you will have to simply launch Netflix or any other supported app on our device and tap on Cast button to watch on the larger screen of your TV.
Google Chromecast is priced at $35.
6.   Google Home Mini
Google Home Mini is an affordable smart speaker for your home powered by Google Assistant at a price of $49. Control your home with this smart speaker- control lights, thermostats and more
7.  
Tile Mate – Key Finder
Tile Mate can be an ideal tech gift for someone who is in a habit of misplacing keys, phone, wallet, purse, and other things. You will have to set up Tile Mate and attach your keys, phone, wallet and it will track the last known location of thing which you have misplaced. It also has a good community support to help you in finding misplaced items.
Tile Mate is priced under $25.
8. 
Skullcandy Jib Wireless Headphones
Searching for an affordable Bluetooth wireless headphones for your friends and family? Skullcandy Jib Wireless headphones offer superb sound quality with built-in remote for taking calls and controlling music. The headphone has a good battery life of up to 6 hours.
Skullcandy Jib Wireless Headphones is currently priced at $32.85.
9.  Spigen iPhone X Tempered Glass Screen Protector
If your friend has recently bought iPhone X, gift him/her Spigen tempered glass screen protector to protect the beautiful OLED display screen of iPhone X from wear and tear.
Spigen iPhone X Tempered Glass Screen Protector is available in a pack of 2 at a price of $9.
10. 
Anker Wireless Charging Pad For iPhone 8 and iPhone X
Has anyone in your family bought iPhone 8 or iPhone X? Gift your family member Anker wireless charging pad. It uses Qi technology and has an LED Indicator Lights which indicates your device charging status.
Anker Wireless charging pad for iPhone 8/iPhone x is priced at $13.
What do you think about these tech gifts under $50? What are you going to buy for your family and friends this Holiday season?