It can be completely frustrating when you line up the perfect shot only to find out later that the subject looks blurry and lacking in definition. There are a lot of reasons why this could happen, and poor lighting, motion, or focus issues are normally the likely culprits. Regardless of why your images are blurry before you discard them you should know that in many cases it is possible to fix them with a bit of editing. If you're interested in trying to fix one (or more) of your blurry images, you should see how Movavi Photo Editor can help you to do just that.
Steps To Fix Blurry Images Using Movavi Photo Editor
Learning how to fix blurry pictures using Movavi Photo Editor is a lot easier than you might think – as you'll see right here and right now. If you've already downloaded the editor you should launch it and open the image that you want to fix by either clicking on the 'Browse for Images' button or dragging and dropping the image file into the main working area.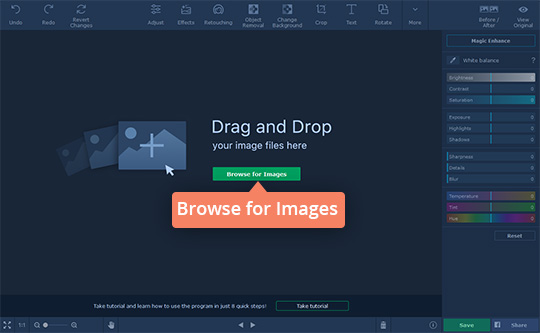 When you have opened the image on the Movavi Photo editor, go ahead and click on the 'Adjust' tab in the upper panel of Movavi Photo Editor's interface. It will open a sidebar on the right that has several sliders that you can use to adjust the color settings and other parameters. In this case, you will want to find the 'Sharpness' slider and adjust it to clear up the blurry image.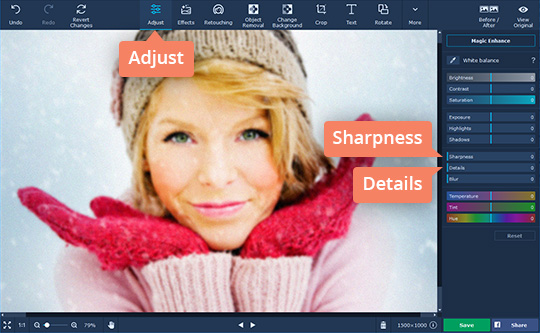 In addition to the 'Sharpness' slider, you may want to try adjusting some of the other color settings in Movavi Photo Editor. To be more specific you could adjust the 'Details' slider to make some texture details more visible or tweak the 'Brightness' and 'Contrast' sliders to improve it more.
If and when you're satisfied, you can click 'Save' and select a format to save the fixed version of your image. As you can imagine however there are lots of other features in Movavi Photo Editor, and if you want you could try them out before saving your photo. With its features, you will be able to transform the frame and orientation, remove unwanted elements, add captions, apply filters and effects, touch up portraits, replace the background, and much more.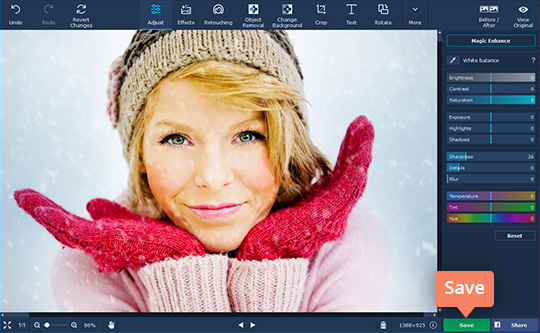 Suffice to say Movavi Photo Editor's features are extensive and will allow you to edit pretty much any aspect of your images that you need to. On your part it would certainly be worth your while to try out its features, experiment with them, and become familiar with what they can do. Once you are able to apply the full scope of its features, you will be able to not only fix your images but create impressive visual content of your own.