Apple has announced its latest mobile operating system iOS 10 with some coolest features at WWDC 2016. iOS 10 features redesigned lock screen, Apple Music, Apple News, SiriSDK for third-party app developers and much more.
Listed below are top coolest features of iOS 10
1.  Redesigned Lockscreen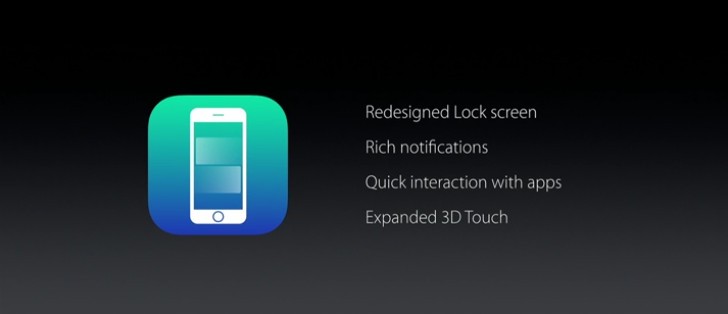 Apple has redesigned the lock screen in iOS 10. iOS 10 includes a new raise-to-wake feature and access camera easily with a single tap by swiping left. By swiping right you will be able to access widgets.
With 3D Touch you will be able to get more information from inside the app. The 3D Touch will also support live videos in notifications. You can see video highlights without entering the app from the notification.
2. Siri
Siri has become more smarter and is now open to developers. With Siri you will be able to book a car via Uber or Lyft, send messages, send payments with Square, search photos or make VOIP calls.
3. Photos App
Apple has added facial recognition to Photos which scans your photos and sorts them automatically by people, landmarks, animals and others at the same time protecting your privacy.
4. Maps
Maps in iOS 10 comes with new design, proactive suggestions for where you likely want to go and will find the fastest way to get there by following all traffic.
Map is being integrated with third-party extensions, users can make reservations at restaurants, book Uber rides right for the app itself.
5. Apple Music 
Apple Music comes with a new interface where you can enjoy your favorite song and simultaneously view the lyrics.
6. Apple News
Apple News has been redesigned, lets you create new topics based upon your reading trends. The News App supports subscription to magazines and newspapers along with breaking news notifications.
7. HomeKit 
Apple has introduced a new app Home with iOS 10. The Home app lets you control all of your HomeKit compatible accessories like fans, lamps, bulbs, doors, air conditioners and more right from the lock screen.
The Home app has also support for 3D Touch you will be able to get additional information like the feed from your camera on the front door will receive a notification when someone is at the door.
8. Phone App
Apple's Phone App has been updated in iOS 10 offering Voicemail transcription. The app has a new VoIP API for incoming calls.
The complete list of iOS 10 compatible devices
iPhone 6s
iPhone 6s Plus
iPhone 6
iPhone 6 Plus
iPhone SE
iPhone 5s
iPhone 5c
iPhone 5
iPad
iPad Pro (12.9-inch)
iPad Pro (9.7-inch)
iPad Air 2
iPad Air
iPad (4th generation)
iPad mini 4
iPad mini 3
iPad mini 2
iPod touch
iPod touch (6th generation)
iOS 10 Release Date
iOS 10 beta is available for registered Apple developers starting today, whereas the iOS 10 update will be seeded to public beta testers in July. The final version of iOS 10 will be available in the fall along with the launch of iPhone 7.