Are you experiencing null IMEI on your Galaxy device which is stopping your device from getting registered on network? You will experience null IMEI when you upgrade your Galaxy device manually without confirming the baseband.
If you are facing Galaxy Null IMEI # and Not Registered on Network follow the guide below. IMEI  is a unique identity for mobile handsets and you will not get any network connectivity if it's lost or stolen. Learn how to block stolen mobile using IMEI Number.
Samsung Galaxy Secret Codes You Should Know
Restore Galaxy Null IMEI # And Fix Not Registered on Network
Open the Dialer of your mobile phone and type *#06#, and check the IMEI number.
If you get any pop-up saying Null IMEI then you will have to configure the settings of your Galaxy device.
Open Dialer and type, *#197328640# or *#*#197328640#*#*
You will be taken to the Command Mode on the screen as shown the picture below,  Select "Common", Option 6.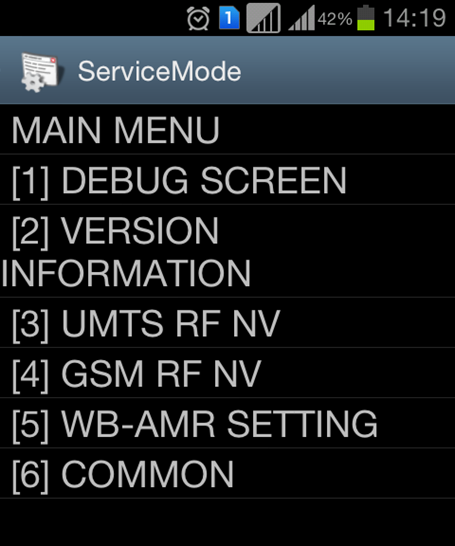 Now Select Option 1 (FTM)(Field Test Mode)
If  FTM is On, turn if Off.
When you turned it Off, your Null or Invalid IMEI will be restored.
Press the Menu key and enter option 2.
This will turn the FTM "OFF"
Remove the battery and SIM card and wait for 2 minutes. Now, place the battery inside without the SIM card.
Open the dialer and Type *#197328640#.
Select Option 1 (Debug Screen)
Select phone control
Click on nas control
Click  RRC (HSDPA) option 5
Select RRC revision, option 2
Now,  choose (HSDPA only) option 5
Restart your Samsung Galaxy device and insert SIM card.
Now, dial *#06#, and check the IMEI number is restored.