Drunk driving car accidents is a huge problem in the US. As per National Highway Traffic Safety Administration (NHTSA) on an average drunk driving causes one death every hour. Thousands of people in the US are arrested yearly on account of driving under influence or DUI. The National Transportation Safety Board recommends that blood-alcohol level should be reduced to 0.05% in every state of the US as against 0.08% to avoid a DUI charge and accidents related to it.
With advancement in technology, there is an app for everything! People these days are getting aware of the risk of driving under influence and are using smartphone apps to reduce the car accidents and crashes because of drunk driving.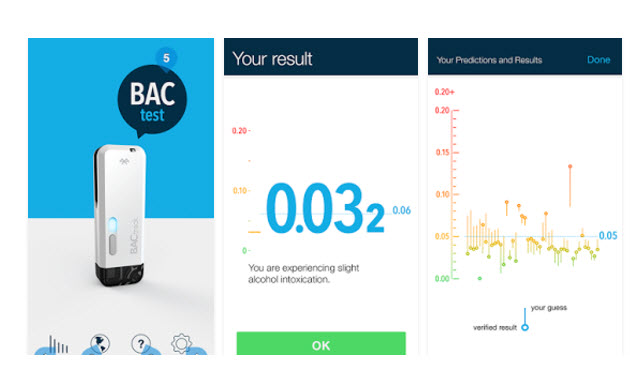 Best Smartphone Apps to Reduce Risk of DUI Charge
1. BACtrack Mobile: BACtrack Mobile is one of the best breathalyzer available for iOS and Android devices. The breathalyzer accurately measures the amount of alcohol in your system and can predict when you will be able to drive safely based on your breath test result.
The app also provides real-time BAC results globally with the option for the user to share his or her result privately in social media like Facebook. The app is wireless and connects to your device via Bluetooth easily. Users can also save or track their BAC results including photos, drink logs, and notes. BACtrack Mobile Breathalyzer can be purchased at a price of $149.99.
2. Alcohoot: Alcohoot is the first smartphone breathalyzer which uses the same technology used by professional police breathalyzers to provide better accuracy.
The Alcohoot plugs onto your iOS or Android device through your headphone jack and requires no installation. The device provides you with the suggestion of nearby restaurants to sober you up and can also call a taxi for you. Alcohoot is priced at $119 and easily fits in your pocket or purse.
3. Floome: Floome breathlyzer is crowd funded developed by 2045Tech, an Italy based company which works with iOS, Android and Windows smartphone. The breathlyzer fits in your palm and provides professional-grade accuracy of blood alcohol level.
The breathlyzer can tell you the amount of alcohol in your blood and time it will take to sober you up. It can also call a cab for you and lets you share BAC results in social media.
The device does not require any batteries or recharging and can be washed easily for hygiene purpose.
The above mentioned are some of the best apps to reduce DUI charges, however, you cannot entirely depend on technology to find your blood alcohol level as the results may be inaccurate at times or the device may be faulty. It is better to avoid drinking and driving.