If you have recently bought Apple's latest iPad Pro 10.5", it is the time now to take the advantage of the Apple's latest device by installing these top iPad Pro 10.5" apps.
Apple's iPad Pro 10.5" comes with Retina display with True Tone, Pro Motion, Apple Pencil, Smart Keyboard and iOS 11.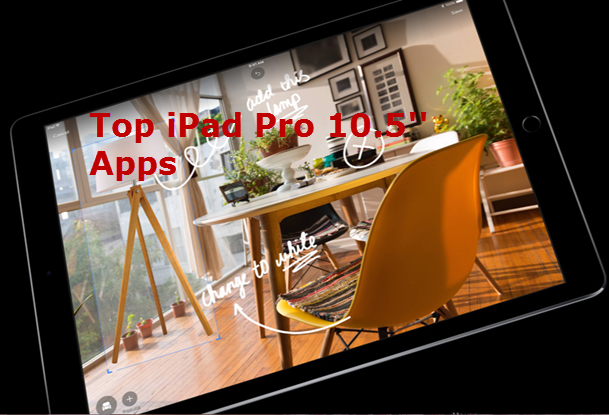 Get the Advantage Of iPad Pro 10.5" By Installing These top Apps
1. Microsoft Excel
We all have used Microsoft Excel desktop app, Microsoft Excel for iPad has become better. Creating, viewing and editing Excel spreadsheets on iPad Pro 10.5" is easy. To create and edit spreadsheets Office 365 subscription is required.
Microsoft Excel is available for a free download from the App Store.
2. Procreate
Are you an artist or a sketcher? Procreate app is a must have on your latest iPad Pro 10.5". The app lets you choose from 128  brushes, create your own brush, customize settings of brush, import or export brushes and much more. Procreate has advanced layer system and is powered by Silica: the fastest 64-bit painting engine on iOS.
Procreate is available for a download from App Store at a price of $5.99.
Best iPad Presentation Apps for Your Next Business Meeting
3. Adobe Spark Page
Create beautiful looking web pages on the go with this best new app on your iPad Pro with ease. With Spark Page, you can easily turn words and images into web stories. You can design your own Page by choosing from a pre-designed layout, colors, add text, photos, videos to make it appealing. Share your story with others on various social networking sites.
Create Presentations, Newsletters, Portfolios and much more with Adobe Spark Page and edit your content with Adobe Spark for web for free.
Adobe Spark Page is a free app.
4. Asphalt 8: Airborne
Gaming on iPad Pro 10.5" can be real fun with A10X Fusion chip. Asphalt 8 provides superb graphical experience, playing games with 200 million players can be really exciting. Play game with your friends on more than 40 high-speed tracks, 140 superb cars with five games modes.
Asphalt 8: Airborne is a free app.
5. Evernote
Stay productive on the bigger screen of your iPad Pro with Evernote app. The app comes with an easy user interface, you can write notes, make a to-do list and add files, videos or picture to the notes. Share your notes with others and sync notes effortlessly across other iOS devices.
Evernote Premium provides 10 GB of new uploads each month with the option to work offline along with some other features.
Evernote is a free app in the App Store.
6. Adobe Photoshop Mix
Adobe Photoshop Mix is one of the must-have apps on the latest iPad Pro. The app allows you to edit multiple images at the same time, with Apple Pencil point at the area of an image which you want to cut and combine for multilayered images and share your creation with others on social media.
To use Adobe Photoshop Mix you will have to Sign up for an Adobe ID.
Adobe Photoshop Mix can be downloaded for free from the App Store.
What do you think about the latest iPad Pro 10.5″? Share your list of top iPad Pro 10.5″ apps!