iPad charging slow can be an annoying problem for iPad users.  If your iPad is charging slow while connecting it a PC/Mac or wall. Be assured, you are not the only one,  many users are facing the issue "iPad Charging Slow".
Before taking your iPad to the Apple Store, here are few things which you can try yourself to fix the slow charging issue of iPad.
iPad Charging Slow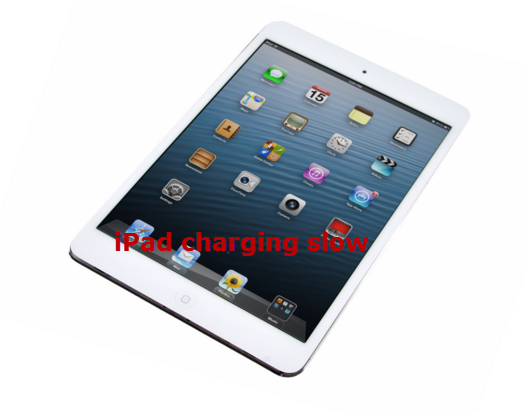 Adapter
iPhone requires an adapter of 5W to charge while 12W adapter is required to charge iPad at full speed.  If you are using a 5W charger of your iPhone to charge iPad you will get a display message saying, "not charging" and your iPad will charge very slowly.
If you are using iPad docking stations along with the use of a 12W charger you can charge iPad faster. Make sure that you don't use iPad while its on dock station.
Duplicate Chargers 
It is unsafe to use duplicate third-party adapters/chargers for iPad.  With iOS 7 Apple has introduced a safety feature if you are connecting iPad to a duplicate or third-party charger a message is displayed saying this cable is not certified.
A third-party charger is not safe and secure for use, there are few incidents of users being electrocuted after the use of third-party chargers.
USB charging vs Wall Charger
When you are using USB cable connected via computer/laptop  to charge your iPad, the maximum power output is 500 mA which is slow.  Wall charger can supply more current at a given time hence charging is fast. Using a USB charging can take about 8 hours for a full charge of iPad battery.
No doubt USB charging is convenient and saves power. If you have to use USB charging is better to use  USB 3.0, USB 3.1 or Mac USB port for better charging. Also make sure that you remove all other devices connected to other USB ports so that your iPad gets charge faster.
Removing Background Apps
Try not to use iPad while its getting charged.  At times you may be listening to music in the background while playing a game in your iPad while charging. You may open one app and then another app in iPad, the first app will be running in the background.  Remove background apps running on iPad. You can also turn-off iPad while its getting charged to remove background app from running and resolve charging issues of iPad.
Also Check out –
Best Lifestyle Apps for iPad Worth Trying
Update iOS
Lastly, update iPad to the latest iOS. Your iPad may be facing slow charging  because of the old the operating system.
To update your iPad to the latest operating system, Go to Settings >> choose General >> Software update. Choose Download and Install.
By following the above steps you will for sure be able to resolve iPad charging slow issue and speed up iPad.