You can do a lot of things with your Apple Watch. You can make phone calls, track fitness, send text messages  ,find misplaced iPhone and more. Did you know that you use your Apple Watch for gaming? If you have downloaded best Apple Watch apps  , its the time now to have fun with your Apple Watch and download some awesome games.
Listed below are some best Apple Watch games which you can download to play today.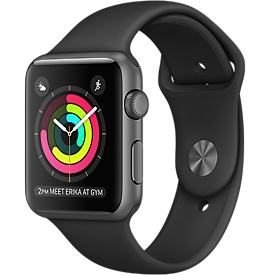 Download And Play These Best Apple Watch Games
1. Runeblade
Runeblade is a fun filled  RPG game which you can enjoy playing on your Apple smartwatch after a long tiring day. In Runeblade you will be a champion of the order of War Mages so that you can defeat their evil gods to when time is running from your hands to save the world.
The game has various levels where you can unlock special powers as you proceed in the game. The game is available for free with in-app purchases.
2. Letter Zap
In Letter Zap you get 30 seconds to find as many words as possible from a group of letters. You can challenge yourself to get higher score, with Zen Mode you will be able to play unlimited matches on the screen of your  smartwatch without any time limit.
The game is highly addictive and is available for a download at a price of  $2.99 from the App Store.
Download and Install Apple Watch Software Update on Apple Watch
3. Spy_Watch
Spy_Watch is a game from Bossa Studios where you are the head of a spy agency which you have inherited from your late father. Direct your agent to succeed in the mission by issuing instructions.
The game is played via notifications on your watch and can be downloaded from the App Store by making a payment of $0.99.
4. Lifeline
Interested in going to the Moon? Lifeline is similar to Spy-Watch as you play the game via notifications on your smartwatch. The game revolves around an astronaut named Taylor who is stranded on an alien Moon. You will have to help Taylor to take right decisions to survive. If you don't make right choices then Taylor might die alone in an alien Moon.
Download LifeLine for $0.99 from the App Store.
5. BoxPop
BoxPop is a simple and addictive game which you would enjoy playing for sure on your Apple Watch. The game has 40 levels with new puzzles every day where you will have to pop boxes in an L-shaped path which is very much like a knight in a game of chess.
Earn rewards and medals to unlock larger grids and bigger challenges. The game is available for free on the App Store.
6. Trivia Crack
If you have played Trivia Crack on your iPhone, why not play the game on the tiny screen of your Apple Watch. The game has more than thousands of questions with more questions being updated regularly. You have to answer questions across six categories and the winner will get the six crowns.
Challenge your friends and steal their characters. Go ahead and download the game for $2.99.
7. Watch Quest
Watch Quest by WayForward Technologies is exclusively for Apple Watch. In Watch Quest you are the hero, you will have to fight with monsters, solve puzzles and search for treasure. Complete every quest which you have been given which can be difficult.
The game is available for a free download from the App Store.
8. The Martian
The Martian by Little Labs is based on the popular movie "The Martian".  You are a NASA communications specialist who has to help an astronaut named Mark Watney who is stranded on Mars. You will have to take decisions to help him survive.
The game is similar to the Lifeline and is available for a download at a price of $0.99.
Do you play games on your Apple Watch? Are you aware of any other Apple Watch games which you can install? Do share your comments below!