Apple launched its smartwatch Apple Watch last year having its own operating system watchOS. With watchOS 2 Apple has introduced more powerful features, more faces to choose and faster apps. If you have recently bought Apple Watch for you or planning to buy one, here's some of the top best Apple Watch apps worth installing.
Check iPhone Battery Life from Apple Watch
Best Apple Watch Apps Which You Should Install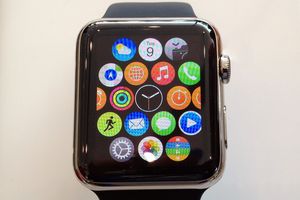 1. Citymapper
Public transport is a must for a big city life. If you live in the cities which is supported by the app then Citymapper is one of the must have apps on Apple Watch. The apps provide all the required information to you regarding your public transport and provide step-by-step instructions on getting from place A to place B. If you are new in the city no need to install any other app to show your direction.
You get real-time information on timings and various stops of bus, trains, trams and more. With watchOS 2 can access an outline of the stops to expect on your journey. And with watchOS 2, it provides your ETA and directions on your watch face. The app is available for a free download from the App Store.
2. Shazam
Shazam is one of the most popular music app for iPhone. With Shazam on your Apple Watch, you don't have to always look for your iPhone to find which song is playing. You can simply slide up to glance and press the listen button and know the song, and lyrics. The Handoff feature in Apple Watch app gives you the option to buy the track on iTunes. Download Shazam for free from the App Store.
Send A Message Using Siri On Your Apple Watch
3. Invoice 2go
Invoice 2go is a great app for small business owners to create an invoice, estimates, and purchase orders while on go. The app lets you track time on the job, create invoices and receive payment notifications right from your Apple Watch. The app has pre-designed invoice templates to choose from. Go ahead and install the app from free on your Apple Watch.
4. SPG: Starwood Hotels & Resorts
Starwood Hotels & Resorts Worldwide app for the Apple Watch lets you unlock you hotel rooms simply by waving Apple Watches in front of the doors, interesting isn't it. Get your check-in and room information onto your watch for free.
5. Uber
The car-hailing service Uber for Apple Watch app allows you to call a cab from your location by just tapping the 'Hail' button. The app on your Apple Watch also provides estimated time of the arrival of your cab, driver's name, car model and real-time update of the cab location.
You will have to buy movie tickets from the official website of the Fandango and your Fandago Account will be synced with the app and a barcode ticket will appear on your Apple Watch. When you go for the movie, flash your Apple Watch for ticket scanning.
7. Dark Sky
Dark Sky is one of the most popular weather apps for iPhone. With Dark Sky for Apple Watch, you get a notification on your Apple Watch that how much rain or snowfall is expected. The Dark Sky for Apple Watch provides you with an in-depth weather forecast. It is a paid Apple Watch app.
8. NYTimes – Breaking National & World News
NYTimes for Apple Watch lets you be connecting with the latest news displayed in "one sentence stories". You get the latest news at the glance with The New York Times on Apple Watch.
What are your thoughts on these Apple Watch apps? Are you aware of any other Apple Watch app which you can install? Do share your comments below!